Patrick Ness: Why I wrote A Monster Calls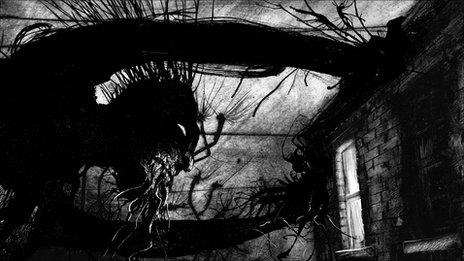 Patrick Ness explains why he took on the challenge of writing a book based on the idea of another author, Siobhan Dowd, whose premature death prevented her from writing it herself.
"It felt like a really private thing," says Patrick Ness. "Between me and her, between writers."
Ness never met Siobhan Dowd, although they shared the same literary editor. But after Dowd's death from cancer, aged 47, in 2007 he was asked to take the idea she'd been developing for her fifth novel and write it himself.
The result was A Monster Calls, published in May 2011, the story of 13-year-old Conor who is coming to terms with his own mother's battle against cancer.
"I would normally say 'no' to turning someone else's idea into a book," admits Ness.
"But the idea was so strong and so vivid that I never felt like I was completely fabricating something she didn't want.
"There was just enough material to kick me off, and have the freedom to let the story live and breathe while also celebrating her idea."
The "monster" that calls on Conor is an ancient walking, talking yew tree. The significance of the yew becomes clear late in the story.
While the hardback release - with its stark and haunting illustrations by Jim Kay - is aimed at a young adult market, the book has also found an older audience.
Reader reviews suggest the book has left many moved to tears and emotionally drained.
"Adults actually have a tougher time than younger readers do," says Ness. "Adults have more experience of loss and more experience of the fear of loss.
"I hear from lots of young readers who love it and like being moved by it, but adult readers come up and say: 'This actually happened to someone I know.'"
The US-born author adds: "I hope it's not bleak for bleakness's sake. I think there's hope at the end. I think it's a healing kind of thing."
Born on an army base in Virginia, Ness spent his early years in Hawaii, before moving with his family to Washington state.
He studied English Literature at the University of Southern California. He has lived in the UK since 1999. His debut novel was 2003's The Crash of Hennington.
It was third time lucky for Ness. Monsters of Men was the final book of the Chaos Walking trilogy. The first two novels - The Knife of Never Letting Go and The Ask and the Answer - were shortlisted for the Carnegie in 2009 and 2010.
The story is set in a world where private thoughts are audible. Ness was fascinated by the idea of "information overload" and how relevant it is to today.
"Our world - particularly for young people - is almost like that, with mobile phones and social networking sites.
"If you're 15 and you tell someone a secret they can put it up on Facebook. If you make a mistake someone films it on their mobile and puts it up on YouTube.
"When you're 15 you deserve privacy. I'm not a luddite. It's something to be entered into thoughtfully."
In his Carnegie speech, Ness recalled how the librarians of his childhood would sometimes let him "check out some eyebrow-raising books".
Ness names Jitterbug Perfume, Tom Robbins' comical philosophical fourth novel, published in 1984, as a particular favourite.
"I read it when I was about 15," he says. "It was playful, and that was a revelation. I read it probably a dozen times in those years between 15 and 17 and I haven't read it since because I want it to sit forever in my teenage brain."
A Monster Calls was published in May in the UK, and is out in the US in September. Ness will be discussing A Monster Calls at the Edinburgh International Book Festival on Saturday 20 August.
Related Internet Links
The BBC is not responsible for the content of external sites.