3D sales boost UK cinema despite drop in ticket numbers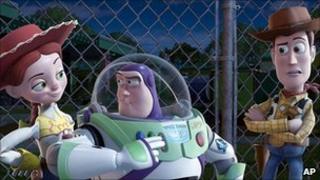 Box office takings were up in the UK last year despite a a decline in the number of cinema visits.
The increase in box office receipts can be explained by the impact of 3D premium ticket pricing, a spokesman for the BFI said.
Box office receipts reached £988m in 2010, up 5% on 2009, according to a British Film Institute (BFI) report.
But cinema admissions were down 2% on the previous year, with a figure of 169.2 million.
UK films, including co-productions, accounted for 24% of the market. The top film at the UK box office last year was Toy Story 3, grossing £73.7m.
The top 100 films earned 90% of the gross box office.
'Challenges ahead'
Other top 10 films included Harry Potter and the Deathly Hallows Part 1, Alice in Wonderland, Inception, Sex and the City 2 and Despicable Me.
But on the production side, the number of films made in 2010 was down from 87 in 2009 to 79.
The median budget for UK domestic features was £1.2m, compared with £1.4m in 2009 and £2.9m in 2003.
Eleven big budget films accounted for 73% of the total spent on UK productions last year.
The BFI's chief executive, Anita Nevill, said that despite the economic environment, "the outlook for film is still generally positive with much to be optimistic about."
"But there are still challenges to address and the BFI looks forward to working closely with the industry and with government to address these."
The now defunct UK Film Council handed over its funding responsibilities to the British Film Institute earlier this year.
The BFI is now responsible for distributing lottery money to film-makers based in the UK.
The institute also looks after the national film archive, runs education programmes and organises the London Film Festival, among other things.