Andy Warhol depicted as an old man in new sculpture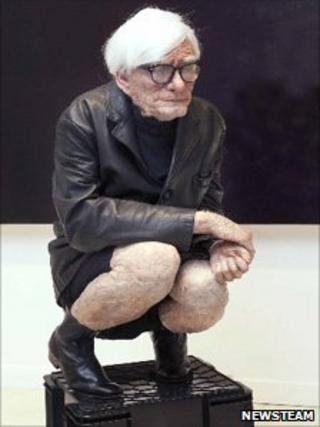 A sculpture of pop artist Andy Warhol, depicting what he might have looked like had he still been alive, has been unveiled to mark his 83rd birthday.
Artist Edgar Askelovic spent three months working on the piece, which is being displayed at McDermott Galleries in Birmingham.
Askelovic sold his car to buy the silicone and clay used in the lifelike work, which is based on an old photo.
"I thought long and hard about what he might look like today," Askelovic said.
"The pose of the piece is taken from a photograph of Warhol in the 60s. He is a huge inspiration to me and I wanted to make sure that I did him justice with my work," the 23-year-old artist said.
The sculpture shows Warhol with deep wrinkles and without his teeth which "reflect the years that have passed", Askelovic said.
The renowned pop artist, filmmaker and music producer died in 1987, aged 58, following surgery on his gallbladder.
Gallery owner Terence McDermott said: "The idea is that on Saturday, if he was still alive, he would have been 83-years-old, so what Edgar has done is to use some artistic license to create his own interpretation of Warhol."