Russell Brand sets up production company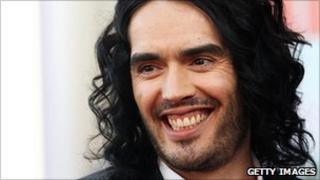 British comedian and actor Russell Brand has launched his own film production company, based in Hollywood.
Branded Films, which the Arthur star has set up with his business partner Nik Linnen, will be run from the Warner Bros studios in Burbank, California.
The company will primarily work on developing films for Brand to star in.
Brand joked to entertainment website Deadline it would "particularly welcome ideas that could feature a long-haired actor with an unintelligible accent".
"We at the newly founded Branded Films are very excited to announce our new company and the opportunity for puns that it affords us," the 36-year-old said in a statement.
He went on to jokingly suggest the company's offices would be "in that water tower in which some of the Looney Tunes also live".
Brand is the latest actor to make a producing deal with Warner Bros, which also has arrangements with Robert Downey Jr, Zac Efron, Ben Affleck and Matt Damon.
Brand has just finished work on a film version of Broadway musical Rock of Ages, due for release next year.