George Best musical Dancing Shoes to open in Salford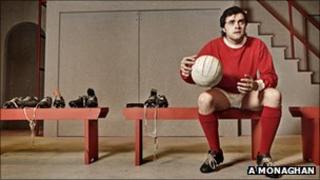 Famed northern Irish footballer George Best made his debut for Manchester United in 1963. Now - almost 50 years later - fans in Salford, Greater Manchester are getting ready for a different kind of debut - a musical adaptation of his life.
Dancing Shoes: The George Best Story, tells the story of Best's colourful life on and off the pitch and is due to open at The Lowry next month.
The show, by playwright Martin Lynch, charts his rise to fame, his success and his eventual downfall due to his abusive relationship with alcohol - which killed him in 2005 at the age of 59.
The audience follows Best growing up in Belfast before heading off to Manchester as a 15-year-old boy to train under the leadership of the club's now legendary Scottish manager Sir Matt Busby.
Former United players Harry Gregg, Pat Crerand and Alex Stepney gave their approval to the show at the press launch on Tuesday.
Best's son Calum who is featured as a child in the show said: "This show put me through the emotional wringer. It was brilliant though."
'Two families'
Writer Martin Lynch said the Salford setting was a natural choice for the production's English debut.
"George Best always said he had two families and two homes, one in Belfast with his parents Anne and Dickie and the other in Manchester," he says.
"He was traumatised leaving home at 15 and Matt Busby basically became his dad. When he left Manchester that's when his life started to go downhill."
Aidan O'Neill, who plays the role of Best, is also excited about bringing the show to Best's second home.
"It's been really inspirational walking along the streets here, imaging where George has been and getting a feeling for this city that he really loved," he said.
"It makes it all so real. When you see the bronze statue outside Old Trafford you remember how much of an icon he is here."
The relationship Best had with his mother Anne and his difficulties in sustaining relationships with women are also examined as part of the performance.
His amorous encounters with various Miss Worlds are explored and some of the performance is set in pop icon Cher's house for whom his wife Angie was a personal assistant.
Songs written for the show include the title track Dancing Shoes and I Think I've Found You a Genius - based on the actual telegram that football scout Bob Bishop sent Matt Busby when he discovered the teenage star.
Where Did It All Go Wrong repeats an infamous anecdote from Best's appearance on This Is Your Life. Best related how a room service waiter found him in bed with a Miss Universe with money scattered around the room and then uttered the now famous line.
There are some issues which have been skirted round by the production.
Best's last wife Alex Best does not appear in the show and - although his alcoholism is portrayed - the true extent of his boozing and its huge physical cost and ultimate price is not detailed here.
Player approval
The musical, however, has found support from Best's team-mates.
Former Manchester United midfielder Pat Crerand, who played with Best said: "A musical about George Best, who would believe that?
"I know (former players) Alex Stepney and Harry Gregg saw the show in Belfast and thought it was fantastic.
"For two hardened footballers to go and see a musical and come back and say it was incredibly emotional is a great thing," he continued.
"I've heard the title song Dancing Shoes and knowing George and knowing what he was like, I found it very very touching. It's right that it's coming here, I've no doubt the fans will go."
Manchester United fan Adam Hicks said: "George Best was a legend at Man Utd, it'll be great for younger fans to reconnect to one of our greatest players."
Dancing Shoes opens on 5 Sept 2011 at The Lowry, Salford before touring the UK and Ireland.