Model Twiggy revives music career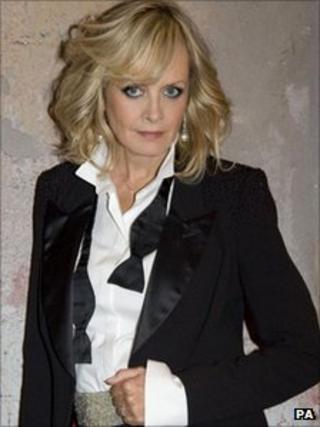 British model Twiggy is attempting to revive her music career with an album of romantic cover versions of tracks by Neil Young, Bryan Adams and The Kinks.
"Music's so much a part of my life and my career," said the 61-year-old, who starred in film musical The Boyfriend and had a Top 20 hit in 1976.
Released on 21 November, Romantically Yours also sees her sing such classics as Blue Moon and My Funny Valentine.
"I haven't done this for quite a while, so people forget," said the model.
"I'm actually going back into what I've done since 1970."
Recently featured in TV adverts for Marks & Spencer, Twiggy - born Lesley Hornby - became the face of swinging London as a teenager.
During the 1970s, she was seen on TV singing with Bing Crosby and Bryan Ferry and had two albums in the Top 40.
Her cover of Adams' song Heaven features a new solo by the guitarist and singer, while Richard Marx appears on her version of his track Right Here Waiting.
Twiggy's daughter Carly also appears as a guest vocalist on the album, to be released through EMI.