Ralph Fiennes takes on latest Shakespeare challenge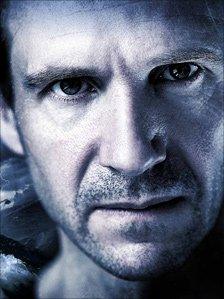 Actor Ralph Fiennes is hoping Harry Potter fans will be lured to watch Shakespeare when he stars in The Tempest in London's West End.
Fiennes, who plays Lord Voldemort in the Potter films, is taking on the role of Prospero in Trevor Nunn's production at The Theatre Royal Haymarket.
He hopes young Potter fans, who are not usually interested in Shakespeare, could be drawn to the play based on his past experience of moving between film and theatre, Fiennes says in an interview for BBC Radio 4's Front Row.
"(After doing) a very commercial romcom with J Lo called Maid in Manhattan I went on to do an Ibsen play called Brand, which is extremely intense, and there would be all these J Lo romcom fans that had come to see Ibsen's Brand, which I thought was great," he says.
The final movie, Harry Potter and The Deathly Hallows Part ll, has just broken box office records. In the films, Fiennes wears prosthetic make-up to distort his face but he says fans do still recognise him in the street.
"I thought with the lack of nose as Voldemort I would get away with it, but sadly it's not often the case.
"I've somehow been unmasked so I do get 'Voldemorted' a bit."
He hopes the Potter fans who are attracted to see The Tempest will love Shakespeare as much as he does.
"There is an expressiveness, an extraordinary elasticity of expression in Shakespeare which is thrilling to me and I hope other people find it thrilling," he says.
"That's why I'm doing this. I think the language still connects."
The Tempest may seem like a stark contrast to the Harry Potter films but he says there is a similarity in the acting.
"When you're doing it, it matters more than anything else. Whatever context it is, you want it to be as real, as immediate, as genuine and as discovered as possible.
"What I liked about David Yates's direction on Harry Potter - yes in one sense it was fun but he would challenge - is that he would keep digging for these little moments.
"For a so-called big franchise film, where he had a guaranteed audience, he wouldn't let up mining the intensity of those moments of Voldemort and Harry and I loved that."
Fiennes has played a large number of Shakespeare roles and he has just directed and starred in a modern-day film version of Coriolanus, which is released next year, but he is happy Trevor Nunn is in the director's chair this time.
"It's wonderful to not have that responsibility, to just go: 'I'm going to dive in here and Trevor Nunn will tell me if it's working or not working or where it needs to go.' That's a weight lifting off after Coriolanus," he says.
So with many Shakespeare roles to his name, is he aiming to do a full set?
"I would love to play Leontes in Winter's Tale and I can't shake off the idea of doing the Scottish play (Macbeth). Lear? I think that's a few years away," he says.
"There's a few I'd like to have a go at. I think I've missed a few. I would have liked to have played Henry V (who died at age 35) but I think I'm past it now!"
The full interview with Ralph Fiennes will be on Front Row soon.
The Tempest runs until 29 October at the Theatre Royal Haymarket, London.
Related Internet Links
The BBC is not responsible for the content of external sites.