Broadway takings down after Irene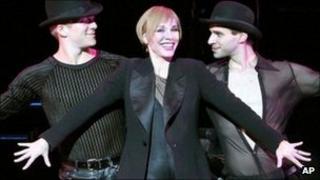 Broadway theatres lost millions after weekend shows were called off as Post-Tropical Cyclone Irene hit New York.
Takings for the week ending Sunday were $11.6m (£7.1m) - compared with $20.1m (£12.3m) the week before, according to Broadway League figures.
Although New York City escaped the worst of Irene's fury, closures were unavoidable after the transport network was shut down.
Some shows resumed on Monday with all due to return on Tuesday.
Plays and musicals with the biggest falls in revenue compared with last week included The Lion King, which dropped almost $710,000 (£435,000) and Spider-Man: Turn Off the Dark, which fell by about $634,000 (£389,000).
Billy Elliot, meanwhile, made $358,485 (£220,000), down from $731,895 (£449,000) the previous week.
With the cancellation of the Saturday and Sunday matinee and evening performances, all three shows put on four performances compared with their usual eight. None of the shows staged Monday performances.
Ticket-holders have been offered refunds or exchanges.
The Broadway League said 130,853 people attended all 23 Broadway plays and musicals - down from 217,661 the week before.
The cancellations marked the first such shutdown since a 2003 power blackout which affected 50 million people in North America.