Waterstone's drops 3-for-2 book deal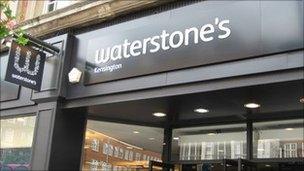 Waterstone's has announced it will end its 3-for-2 deals on books in September after more than 10 years.
The promotion is expected to be withdrawn this month and replaced by a new pricing structure which will see books sold for £3, £5 and £7.
The bookstore chain was bought by Russian businessman Alexander Mamut earlier this year.
Managing director James Daunt has vowed to shake up the chain amid flagging sales and customer dissatisfaction.
Many publishers have welcomed the move to abandon the 3-for-2 promotion which has dominated the shops' sales in recent years.
Ursula Mackenzie, chair of the Trade Publishers' Council at the Publishers Association, told industry magazine The Bookseller that it was "a good thing".
"I'm not sure that the 3-for-2 is what people are looking for. They want one book, at the cheapest possible price."
Author Charles Cumming, whose latest thriller, The Trinity Six, is scheduled to appear in the final 3-for-2 deal in Waterstones later this month, believes more obscure authors "may suffer".
"There was a feeling among writers that if your paperback didn't get into the 3-for-2 deal, you were finished," he told BBC News.
He argues that being on the table next to a best-selling author such as Lee Child or JK Rowling allowed lesser-known writers to be exposed to a broader audience and new readers.
"My worry is that without the presence of a 3-for-2 deal, established authors will still be sold at an attractive price, but that emerging writers will no longer have a platform."
Waterstone's, which has faced increased competition from online stores such as Amazon, and the rapid growth of e-books, will be hoping for strong sales over the Christmas period.
In an internal email sent in July, Mr Daunt said he would be working closely with shops "to ensure that as we enter the crucial final quarter of the year, we do so with our shops stocked to the best possible effect".
Related Internet Links
The BBC is not responsible for the content of external sites.