Council painting fetches £120,000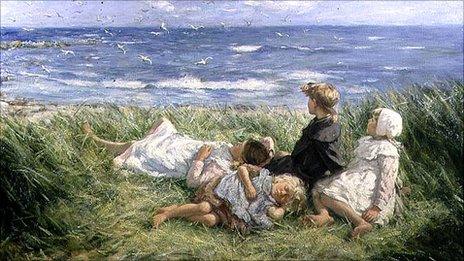 A painting by Scottish artist Robert Gemmell Hutchison has been sold by Bolton Council for £120,000.
Sea Gulls and Sapphire Seas was bought by the council for £150 in 1912.
The painting set a new record for the artist's work and is among a number of artworks being sold by the council to pay for a new museum storage warehouse.
Bolton Council has said its decision to sell around 35 works of art is a last resort because there is no money in the main council budget.
The council's sale has aroused interest because public galleries are normally restricted from selling their artworks.
Under Museums Association rules, they are only allowed to sell paintings in exceptional circumstances and if the money goes towards improving the remaining collection - such as by building a new storage facility.
Bolton Council's current store is in a poor state of repair and its budget is being cut by £60m over the next two years.
So far, the authority's art sale has raised more than £300,000, with more works to go under the hammer later this month.
Sea Gulls and Sapphire Seas is the most valuable painting to be sold by the council. Auction house Bonhams said it went to an anonymous English buyer.
Related Internet Links
The BBC is not responsible for the content of external sites.