Friends' end ushers in new comedy on E4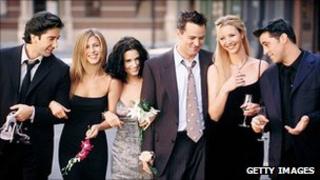 Repeats of US sitcom Friends will end this weekend on E4, making way for new comedy on the digital channel.
The last scheduled episode of the hit show, which will be the 2004 series finale, will go out on Sunday at 20:00 BST.
Channel 4 will continue to hold the licence to broadcast the show until the end of the month, when it will pass to Comedy Central.
The broadcaster said the move was to free up funds for new comedy shows.
"We are incredibly proud to have been the home of Friends for so long, but at a point when the channel is undergoing a period of creative renewal it felt like the right time to part company," Channel 4's Gill Hay said last February when it first announced it would be dropping the show.
E4's autumn schedule is set to introduce a fresh raft of comedy shows to the channel.
Noel Fielding's Luxury Comedy sees the The Mighty Boosh creator in a half filmed-half animated show, while stand-up comic Chris Addison will host Show & Tell in which three aspiring comics each bring items to "show" and "tell" the audience.
There will also be new shows for comedy music group The Midnight Beast and a return for Comedy Labs and PhoneShop.
New US comedy sitcoms including New Girl starring 500 Days of Summer's Zooey Deschanel and Happy Endings featuring 24's Elisha Cuthbert will be introduced to the channel.
Channel 4 has broadcast Friends since 1994 with its last ever episode drawing an audience of 8.6 million viewers.
Since then, the show has been on constant rotation on Channel 4 and E4, where it consistently attracted an average audience of almost 400,000.