Play casts aid workers in new light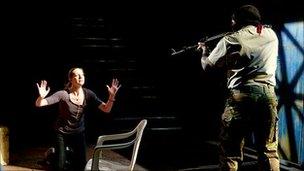 The messy reality of trying to help people in the developing world is the subject of a new play, staged by acclaimed theatre director Max Stafford-Clark and scriptwriter Stella Feehily.
A play about humanitarian aid workers could be a tough sell. They are not known for their dramatic image, and audiences may shiver at the thought of getting either a dry lesson in global politics or a guilt overload.
But Max Stafford-Clark, who was artistic director at the Royal Court in London for 14 years, and Feehily, his writing partner and wife, shake off those preconceptions with a powerful human story about the moral quagmires and personal calamities of people who deal daily with danger and suffering.
In Bang Bang Bang, the workers are not just doling out food and blankets. They are engaged in the more difficult and less immediate task of taking testimony from women who have been abused by soldiers, with the hope of eventually bringing the perpetrators to justice.
The play opened at the Bolton Octagon on Monday and will go on tour until the end of November, including a four-week stint at the Royal Court.
To paint a realistic picture of places like the Democratic Republic of Congo, where the play is set, Stafford-Clark and Feehily spent months talking to humanitarian workers, doctors, journalists, government officials and researchers.
Anecdotes have been woven into the story, posing difficult questions about a world that is neither black nor white but a murky shade of grey.
What would you do if a girl who had been abused clung to you and begged you to take her home with you?
Or if a feared warlord broke down as he recounted how his mother was killed with a hammer when he was a child?
Or if you were offered the choice between a stable relationship at home, or continuing your noble but dangerous and apparently rather futile quest in the Third World?
The action takes place in North Kivu, next to the Rwandan border - an area that has become notorious for conflict and widespread rapes amid ongoing violence between the army and militia.
Feehily said she decided to write the play after staging a previous show about foreign correspondents and becoming "gripped" by that world.
"Everybody who we spoke to spoke so passionately about Congo, and particularly about the Kivus - their fascination, their horror, their instinct to do something.
"It was the collision of those things and their passion for that part of Africa. That's where this story came from."
Of the people they interviewed during their research, they speak particularly admiringly of Anneke Van Woudenberg, an investigator for Human Rights Watch.
"As a matter of routine she interviews warlords and she described the reactions of different warlords," Stafford-Clark recalls.
"Some of them would be blustering and threatening, but others would show remorse and indeed even burst into tears when accused of crimes.
"As a director, the response was not emotionally what was predictable. So the richness of the world revealed itself by the people we talked to."
The humanitarian characters range from the innocent idealist to the hardened cynic, and the audience is asked to question whether these "white angels", as they are described at one point, are selfless saviours or invasive meddlers.
On top of the danger and difficulties of their work, they are presented as people who have serious issues of their own.
"All of us are here for a reason - we're running away," says a character at one point.
Another puts the question to an aid worker: "What are you? Mercenary? Missionary? Misfit? All of the above?"
"I was interested in this idea of commitment, and many people I spoke to also had commitment issues," Feehily says.
"They were very committed to their work but found it hard to commit to a life in the first world, and that included all the trappings of stable relationships at home."
"It's something you relate to very easily if you work in a theatre," Stafford-Clark adds with a smile.
Stafford-Clark has been one of the leading figures in British theatre for 40 years and was the Royal Court's longest-serving artistic director.
In 1993 he left to to start his own touring theatre company, Out Of Joint.
He currently has two shows in the West End - A Dish of Tea with Dr Johnson and a revival of Caryl Churchill's Top Girls.
According to the director, Bang Bang Bang points the way forward for theatre companies struggling with financial cuts.
It is a co-production between Out Of Joint, which will see its Arts Council England grant cut by £100,000 next year, and theatres in Bolton, Leicester, Salisbury and the Royal Court.
That means the costs are spread. "Without that help, this wouldn't be possible," he said.
The show also comes five years after he suffered a stroke. Now looking somewhat frail, he says he has lost his left peripheral vision but has not otherwise changed the way he works.
"Although I do tell actors, 'listen, if you're marooned stage right for longer than 20 minutes, shout', because I've probably parked them there and not seen them," he says, half-joking.
"When I was in hospital there were people who were incredibly kind and sensitive. But what I really missed was the company of actors, and to be in a rehearsal room.
"I do think actors are wonderful people and I love working again."
Bang Bang Bang is at the Bolton Octagon until 17 September before touring to Oxford, Southampton, Leicester, London, Exeter and Salisbury.
Related Internet Links
The BBC is not responsible for the content of external sites.