Colin Firth bemused by King's Speech success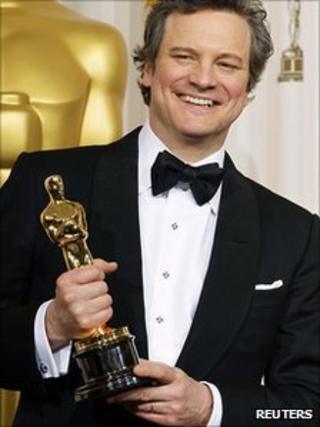 Oscar-winning actor Colin Firth says he is still "bewildered" by the worldwide success of his film The King's Speech.
Speaking to the Radio Times, the 50-year-old said he had been shocked by how well the British royal drama had performed at the box office.
"There are no young people in it, there's no sex, there's no violence, no car chases and there's no action and no vampires," he said.
The film won four Oscars, including one for Firth, and seven Baftas.
It went on to make more than £46m in the UK and £85m in the US.
"Watching two middle-aged men in a room talking, slowly becoming friends, is not exactly a pitch you put out there if you want a film to tear it up at the box office," Firth continued.
"It's only now that a bit of time has gone by that I can appreciate how extraordinary it's been."
Firth will next be seen on screen in a new film adaptation of John le Carre's novel Tinker Tailor Soldier Spy.
The actor had the opportunity to meet le Carre during the shoot and said the cast had been "enthralled" to see him.
"It's a bit like God visiting," he said. "He's the man who created the world that you are in.
"All the words that you are saying, the clothes you are wearing and the characters you are playing are products of this man's incredible imagination.
"There was a real glow on set that day."
Tinker Tailor Soldier Spy, which also stars Gary Oldman, had its world premiere at the Venice Film Festival on Tuesday.
Directed by Sweden's Tomas Alfredson, it will be released in the UK on 16 September.