Richard Hamilton 'great inspiration', says Bryan Ferry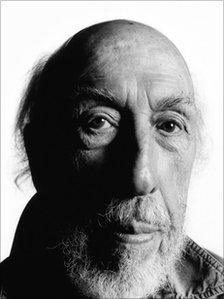 Bryan Ferry has led tributes to influential British artist Richard Hamilton, who has died aged 89.
The singer studied under Hamilton at Newcastle University before he formed Roxy Music, and called his former teacher a "great inspiration".
"As a teacher he taught by example, and his restless enquiring spirit I have tried to emulate in my own work as a musician," said Ferry.
He said Hamilton's death marked "the end of an era".
London-born Hamilton, who had been working on a major retrospective exhibition, was known as a pioneer of pop art in the UK.
Amongst his most famous works was Just What Is It That Makes Today's Homes So Different, So Appealing? which Ferry said "was kind of a talisman for me".
The photo collage, from 1956, features a body builder and a topless model inhabiting a futuristic apartment full of modern appliances and symbols of affluence, from a vacuum cleaner to a large canned ham.
"I was fortunate to be taught by Richard Hamilton in 1964, my first year at the fine art department of Newcastle University," Ferry said.
"From then on Richard was a great inspiration, both as an artist, and as a personality.
"Frighteningly intellectual, he seemed to validate my romantic leanings towards American culture and he revealed how poetic and mysterious the modern world could be."
It was through Hamilton that Ferry discovered a love of the work of French surrealist Marcel Duchamp.
The title of Ferry's 1978 solo album The Bride Stripped Bare is taken from Duchamp's classic work The Bride Stripped Bare By Her Bachelors, Even - created between 1915 and 1923.
Hamilton, who grew up in the Pimlico area of London, studied at the nearby Slade School of Fine Art.
In 1952, he founded the Independent Group at the Institute of Contemporary Arts (ICA) in London, with Eduardo Paolozzi, Lawrence Alloway and other architects.
The group helped to develop Pop art, a term coined by critic Lawrence Alloway, who was also a member of the Independent Group.
During his career, Hamilton exhibited at the world's top galleries, including the Tate in London and the Guggenheim Museum in New York.
He also produced the artwork for The Beatles' White Album, including a photo montage of the band bundled with the original gatefold vinyl.
Later in life, his work focused on political images, often parodying post-war consumerism.
Some of his pieces are currently being featured in an exhibition tracing the use of collage in British art.
The exhibition, put together by the Art Council Collection, is on display at the Middlesbrough Institute of Modern Art and will then tour galleries in Walsall, Lincoln and Carlisle.
Art Council Collection head Caroline Douglas praised Hamilton as "one of the giant figures of post-War art".
"He combined tremendous erudition with a keen, life-long engagement with his times, both in politics and popular culture," she told the BBC News website.
"In the 1950s, Hamilton created a whole new aesthetic with which to address his concerns and, in doing so, mapped visual and conceptual territory that helped define an era."
Related Internet Links
The BBC is not responsible for the content of external sites.