Prodigy star Maxim stages art exhibition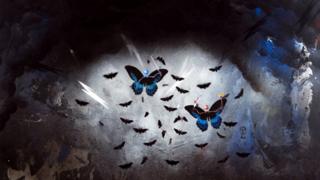 Rapper Maxim, best known as part of rave act The Prodigy, has unveiled his first art exhibition at the INC Space in London's Covent Garden.
The gallery has been transformed by The Prodigy's lighting designers to give context to the paintings.
"One thing I always hate is when you go to a gallery and you just see a painting on a bland white wall," Maxim told BBC 6 Music.
"I like to have a whole feeling, like you are going to Disneyland on a ride."
"When you look at the painting you get a feeling of the room and the surrounding areas, the smell, the sound, the feel under your feet, " he explained.
The star, whose real name is Keith Palmer, is exhibiting his work under the alias double MM.
Called Lepidop Terror, the show features about 15 paintings, all set against a blacks or grey background with striking shards of colour and a recurring butterfly motif.
Walking into the gallery is "like entering a cocoon," said 6 Music reporter Sinead Garvan.
"The exhibition area is extremely dark but while your eyes adjust, you start to feel warmer, pick up on a scent and hear subtle rumblings in the background.
"The lighting is understated, but at times almost changes the way the pictures look by highlighting the splashes of colour in the artwork.
Maxim said staging the exhibition had been "daunting" but he had received support from his bandmates.
"They really like it," he said. "They really like the art, they are into it."
The exhibition is free and runs from 15 - 26 September.