Mike Leigh play receives mixed reviews on opening night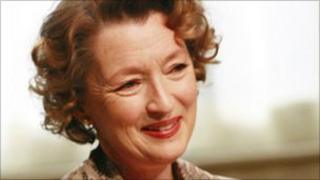 Director Mike Leigh's latest play, Grief, has received mixed reviews on its opening night in London.
The Guardian's Michael Billington said "it lacks the richness of texture of Leigh's finest work", while the Daily Mail labelled it "a loveless dirge".
But lead actress Lesley Manville was hailed as "extraordinary" by the Telegraph's Charles Spencer.
The play, at the Cottesloe Theatre, follows a disintegrating relationship between a widowed mother and daughter.
Set in 1950s suburban London, Manville plays Dorothy, a grieving widow unable to communicate with her angry and withdrawn teenage daughter (Ruby Bentall).
"Lesley Manville is extraordinary as the widowed Dorothy, her mask-like poise and carefully applied brightness harrowingly collapsing into incurable anxiety and despair," wrote Spencer, who also praised the "remarkable work" from co-stars Bentall and Sam Kelly.
But he added: "Watching it, I found myself enveloped by a sense of oppressive gloom that became ever more unbearable as the play - two hours without an interval - progressed."
'Misanthropy'
Billington also judged the acting "superb", citing Kelly's portrayal of Dorothy's repressed brother as an "astonishing portrait of a man who is semi-detached from life".
But he "yearned for a hint of the ebullience" seen in previous Leigh plays.
The Times critic Libby Purves said: "Nobody gets more truthful performances from actors than Mike Leigh, but few have less regard for storytelling. When it all ends grimly, you always knew it would."
But the Daily Mail's Patrick Marmion was more forthright.
"Mike Leigh plays can be good fun," he wrote. "His latest, though, is a loveless dirge featuring a collection of two-dimensional characters locked in a bay-windowed, parquet-floored suburban hell in the late fifties."
Arguably Leigh, whose stage work includes Abigail's Party, remains best known for his films, including Secrets and Lies and Vera Drake.
Following a 22-year break, the director returned to the stage in 2005, with Two Thousand Years at the National Theatre.
As well as Manville - Leigh's most frequent collaborator - Grief includes regulars Kelly, Marion Bailey and Wendy Nottingham.
Following its run at the National Theatre, it will go on tour to Bath and Cambridge later this year.