X-ray reveals hidden Goya painting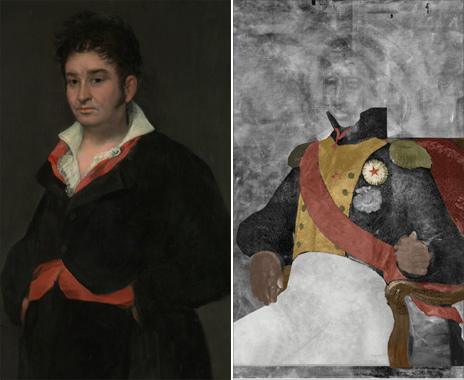 A previously unknown painting by Francisco de Goya has been found hidden underneath one of his masterpieces, the Rijksmuseum in Amsterdam has announced.
The unfinished work was discovered underneath Goya's Portrait Of Don Ramon Satue, using a new X-ray technique.
It is thought to depict a French general, and may even portray Napoleon Bonaparte's brother, Joseph.
The Rijksmuseum says the Spanish master may have covered up the portrait for political reasons.
Joseph Bonaparte was briefly King Of Spain, from 1808-1813.
When the Napoleonic army was driven out and Ferdinand VII restored to the throne, Goya, who retained the painting, would have wanted to distance himself from the French regime.
The artist had served the French king and feared reprisals, despite receiving an official pardon and being reinstated as first court painter.
Eventually, unhappy with Ferdinand VII's autocratic regime, he applied for permission to settle in France, where he lived until his death in 1828.
The new painting was revealed using a technique developed by the University of Antwerp and the Delft University of Technology.
Bombarding a piece of art with powerful x-rays, causes atoms in the picture's layers of paint to emit "fluorescent" x-rays of their own, which indicate the chemicals they originated from. That enables a colour map of the hidden picture to be produced.
The technique was successfully tried out on a Van Gogh painting two years ago, revealing a portrait of a peasant woman behind the work Patch of Grass, from 1887.
Since then, a mobile version of the x-ray "scanner" has been developed, allowing museums to examine paintings that are too delicate to be moved or touched.
According to the Rijksmuseum, the Goya painting is a "formal portrait of a man wearing uniform".
The detail on his face was never completed, but "the decorations embellishing the uniform are those of the highest ranks of a chivalric order instituted by Joseph Bonaparte when his brother, the emperor Napoleon, created him King Of Spain".
"Only 15 generals, plus Joseph, were entitled to wear the uniform and medal, although so far it has proved impossible to pin down exactly which of them is depicted."
Goya's portrait of Spanish judge Ramon Satue, which was concealing the Napoleonic painting, is on display at Museum Boijmans Van Beuningen in Rotterdam, until the opening of the Rijkmuseum's main building in 2013.
Related Internet Links
The BBC is not responsible for the content of external sites.