Dallas revamp to air on Channel 5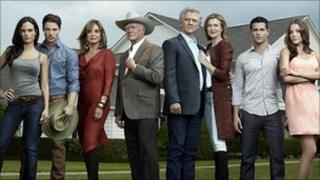 An update of the classic 1980s US soap opera Dallas will be shown in the UK on Channel 5.
US network TNT recently announced it had ordered 10 episodes of the programme, after it commissioned a pilot earlier this year.
Original stars Larry Hagman, Patrick Duffy and Linda Gray reprise their roles in the new show, which will focus on the Ewing family offspring.
The series is due to air in the US and UK next year.
"With its alluring mix of wealth, seduction, scandal and intrigue, there is something for everyone on the Southfork Ranch," said Channel 5 director of programmes Jeff Ford.
Following the bitter rivalries and power struggles within two feuding Texan oil and cattle-ranching families, the next-generation Dallas update centres on John Ross and Christopher Ewing as they clash over the future of the family dynasty.
90210 star Josh Henderson, who appeared as a child in the original series, will play John Ross, son of JR Ewing, while Desperate Housewives star Jesse Metcalfe will play Christopher, son of Bobby Ewing.
The original Dallas ran from 1978 to 1991 on US network CBS and was also broadcast to huge UK audiences on the BBC.