Michael Winterbottom to direct Beatles film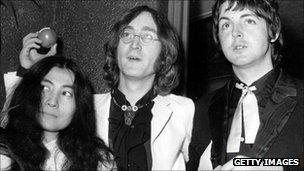 24 Hour Party People film-maker Michael Winterbottom will direct The Longest Cocktail Party, a film about Beatles label Apple, its producer has said.
Andrew Eaton, co-founder of Revolution Films with Winterbottom, also told The Playlist blog that Peep Show creator Jesse Armstrong had written the script.
The film, based on Apple worker Richard DiLello's book, is co-produced with Liam Gallagher's film company.
Eaton described the film as "one of my passion projects".
Former Oasis singer Gallagher, whose In 1 Productions company owns the rights to the memoir by The Beatles' "house hippy" DiLello, revealed last year that the film would be made.
DiLello, whose responsibilities included making tea and listening to demo tapes, began working for the company as a teenager after he "wandered into" the Apple building in 1968.
His memoir, which charts the period from 1968 to The Beatles' break-up in 1970, features tales of a one-man band auditioning in the company's reception hall and the Beatles' last public performance on the roof.
The American, who eventually became Apple's director of public relations, had his book published in 1973.
Eaton told The Playlist that negotiating with Apple Records over using music from its back catalogue for the film was "a minefield".
"We're doing a bit of a dance at the moment, we haven't really found a way to make it work," he added.
And he said Gallagher was "great to work with because he wants everything to happen tomorrow".
The Beady Eye singer has said he wanted Johnny Depp to play the pivotal role of Apple press officer Derek Taylor in the film.
Eaton said Depp "would be great" but added that Taylor was "from Liverpool, and he's probably 32 or 33 in the story, whereas Johnny Depp is 48 or something, and American".
He said there were other parts Depp could play in the film but "whether he could be Derek - I don't know".
Related Internet Links
The BBC is not responsible for the content of external sites.