Michael Boyd to leave Shakespeare Company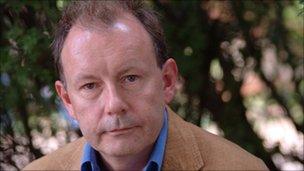 Michael Boyd is to leave his post as the artistic director at the Royal Shakespeare Company.
The 56-year-old joined the RSC in 1996 as an associate director, and was appointed to his current role in 2002.
He oversaw the £112m renovation project to the Stratford-upon-Avon theatres and the RSC's 50th birthday.
In a statement, he said his "chief co-conspirator" Vikki Heywood, the RSC's executive director, would step down at the same time.
"We have opened the new Royal Shakespeare Theatre to unusual acclaim. Our new home is already much loved by the public and critics alike and has won many major awards," he said.
"It's arguably the best theatre for the contemporary production of Shakespeare in the world."
The announcement of his departure was made as the RSC released its annual report at the company's AGM in Stratford-upon-Avon.
Figures have shown that since the theatre complex reopened in November last year, there have been 500,000 additional day visitors to the building.
"This is my tenth AGM as artistic director, and next year will be my last," Boyd said.
"I have always said that it would take 10 years to make a genuine difference in the life and the soul of the company, and though 10 years will not be enough to achieve all that I would like, it will be time for me to pass the challenges on to a new artistic director."
Boyd paid tribute to Ms Heywood and departing Chairman Sir Christopher Bland, who is handing over his role to Nigel Hugill.
"If the RSC is in good shape now, it is in large part due to the expert, passionate and playful chairmanship of Sir Christopher Bland... and to my chief co-conspirator Vikki Heywood.
"Her shrewd insight, her tremendous energy, and her robust rigour have made all our achievements possible."
Under Boyd's leadership, the RSC recently launched the World Shakespeare Festival - the "trump card" of next year's Cultural Olympiad, and next month sees Matilda The Musical opening in London's West End.
The appointment of a new artistic director to the RSC is expected to announced early next year.
Related Internet Links
The BBC is not responsible for the content of external sites.