UB40 band members declared bankrupt by judge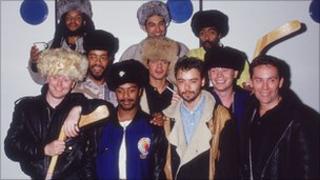 Four original members of reggae group UB40 have been declared bankrupt.
A judge at Birmingham County Court made the ruling against saxophone player Brian Travers, drummer Jimmy Brown, trumpeter Terence Oswald and percussionist Norman Hassan last week.
It comes after the failure of the band's now defunct record label DEP International and a bust-up over finances which split the group in 2008.
UB40 sold more than 70 million records over their 33-year career.
They notched up more than 50 chart hits including Red Red Wine, I Got You Babe and Kingston Town.
The court order lasts for a year and means that tax officers could seize property to pay off any outstanding debts.
The four musicians' details have now been listed by the Insolvency Service.
A spokeswoman for former frontman Ali Campbell told the Daily Telegraph the bankruptcy court case showed he was right to quit the band.
"It is ironic that the very week they celebrate their first gig they have been declared bankrupt, after administration began in 2006, vindicating both Ali and Mickey Virtue's decision to leave UB40," she said.
Campbell acrimoniously split from the band in 2008 citing "management difficulties".
In an open letter to fans on the band's website, he said he was "deeply unhappy with administrative practices", adding he had "an ongoing investigation into the handling of my business affairs in relation to UB40".
A fifth original member of the group - Robin Campbell, the brother of Ali - was also involved in the Birmingham County Court case, although is not listed as bankrupt.
The ruling comes a week after UB40 were honoured with a music heritage plaque at the Hare and Hounds pub in Kings Heath, Birmingham, where the band first performed in 1979.