Obituary: Robin Gibb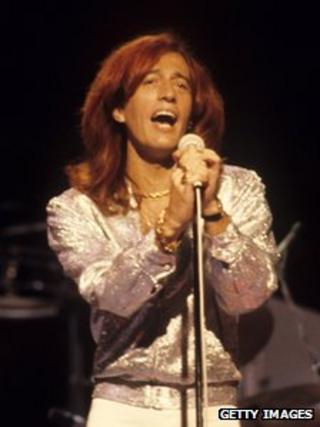 The quavering voice of Robin Gibb was one of the key ingredients in the sound and success of the Bee Gees.
Over a period of 40 years, Robin - alongside twin brother Maurice and older brother Barry - racked up a string of hit singles and albums.
From their early incarnation as pop troubadours to their dramatic reinvention as the kings of disco in the mid-1970s, they notched up more than 200 million album sales worldwide.
They were inducted into the Rock and Roll Hall of Fame in 1997.
But it was a bumpy road with inner tensions in the band causing a brief split. The Gibbs also had to deal with the pain of losing younger brother Andy at an early age and the death of Maurice at 53.
Robin Gibb was born in Douglas on the Isle of Man on 22 December 1949, just 35 minutes before Maurice. Music was an early part of his life as the boys' father Hugh was a drummer and bandleader.
The family moved to Manchester in the 1950s, before undertaking the long journey to Australia. There they settled in one of Brisbane's poorer neighbourhoods.
Robin, together with Maurice and Barry, began playing gigs under a variety of names before settling on The Bee Gees.
In 1963 their first single, The Battle of the Blue and the Grey, made the charts in Sydney and earned them an appearance on a local TV station.
They continued to play and record and in 1965 the single The Spicks and Specks gave them their first Australian number one.
Frustrated by the limited potential in Australia, the band moved back to the UK in 1966.
There they were auditioned by impresario Robert Stigwood, who got them a recording contract with Polydor.
Their first major hit was New York Mining Disaster 1941 which reached the Top 20 in both the UK and US - helped on its way by rumours that the record had actually been recorded by The Beatles.
The disc received a lot of air play, particularly as Stigwood had sent out the demo singles in white covers with just the title of the song on the label.
Their second single - To Love Somebody, co-written by Robin - became a pop standard and over the years was covered by hundreds of artists.
The lead vocals on the record were taken by Barry. This led to considerable tension in the band, with Robin accusing Stigwood of favouring his brother as the lead vocalist.
The band hung together for more chart successes, including Massachusetts and Words. But when his song Lamplight was relegated to the B-side of Barry's First of May in 1969, Robin quit the group.
He had one hit single, Saved by the Bell, but was unable to follow it up and decided he was not cut out for a solo career.
In 1970 the band reunited and achieved an immediate chart hit in the US with Lonely Days, which they followed up with How Can You Mend a Broken Heart?
The Bee Gees' brand of soulful ballads was no longer in fashion and there was a real danger they would fade into obscurity.
But Stigwood persuaded them to switch their sound towards disco and their next single, Jive Talkin', saw them make a chart comeback in both the US and UK.
Turning point
The turning point came when they produced the soundtrack for the film Saturday Night Fever, which turned them into international stars.
It spawned the singles How Deep is Your Love, Stayin' Alive and Night Fever, their most successful track.
Despite the band's success Robin Gibb continued to pursue a solo career, but his music enjoyed more success in Europe than it did in either the UK or US.
He also continued writing songs for other artists, co-writing four of the tracks - among them hit song Woman in Love - on Barbra Streisand's Guilty album with brother Barry.
Robin also co-wrote material for Diana Ross, Dionne Warwick and Kenny Rogers.
In 1988 the Gibb family was hit by tragedy when Andy, their youngest brother and a solo star in his own right, died at the age of 30 from myocarditis - an inflammation of the heart muscle.
One, the Bee Gees' 1989 album, featured a song dedicated to Andy, called Wish You Were Here.
The Bee Gees continued to record and perform and achieved some chart success.
But Barry had been suffering from a number of health problems including arthritis, while in the early 1990s Maurice sought treatment for his alcoholism.
In 1997 they released the album Still Waters, which sold more than four million copies, and were presented with a Brit award for outstanding contribution to music.
In 2003 tragedy struck again with the sudden death of Maurice at the age of 53. Following his death, Robin and Barry disbanded the group.
Bomber memorial
Robin continued to tour and record and reunited with Barry in Miami in 2006 for a charity concert, prompting rumours of a possible reformation.
In 2008 he was at the forefront of the campaign for a permanent memorial in London to the men of Bomber Command.
Two years later he sang the Bee Gees hit I've Gotta Get A Message To You with a group of soldiers in support of the Poppy Day appeal.
In 2008, Robin performed at the BBC's Electric Proms, marking the 30th anniversary of Saturday Night Fever topping the UK charts.
But ill health dogged him. In 2010, he cancelled a series of shows due to severe stomach pains and went on to have emergency surgery for a blocked intestine.
In late 2011 it was announced that Robin, at the age of 61, had been diagnosed with liver cancer. His gaunt appearance prompted suggestions that he was close to death.
However, he went into remission and had been in recovery in recent months. "I feel fantastic," he told BBC Radio 2 in February. "I am very active and my sense of well-being is good."
His final work was a collaboration with his son, RJ, on The Titanic Requiem, to commemorate the 100th anniversary of the naval disaster.
Robin Gibb was a talented singer and songwriter whose best work came from his collaboration with his brothers.
Together they sold more records than the Rolling Stones, Abba or Elton John, but Gibb always felt the band had not received the recognition it deserved.
"There are songs we wrote in 1968 that people are still singing," he told one interviewer in 2008. "There's very few artists with that kind of history."