Arab Spring: BBC coverage to face impartiality review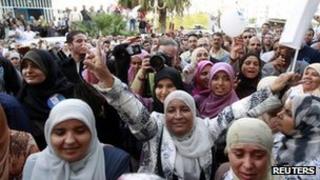 The BBC's Arab Spring coverage is to be evaluated in the latest in a series of reviews assessing the impartiality and accuracy of the corporation's output.
Reporting of events in Tunisia, Egypt, Libya and elsewhere will be probed, with findings published in autumn 2012.
Edward Mortimer, former UN Director of Communications and an expert in Middle East affairs, will lead the review for the BBC Trust.
Previous reviews have looked at the BBC's coverage of business and science.
"Events in the Middle East during 2011 up-ended many widely accepted notions about the region," said Mr Mortimer.
"Such stories are always the most exciting for journalists to cover, but also present many challenges.
"It will be fascinating to examine in detail how the BBC rose to these."
Alison Hastings, chair of the BBC Trust's Editorial Standards Committee, said the so-called Arab Spring had been "a difficult story to cover".
"The challenge for the BBC... is to ensure that it maintains the high standards of impartiality and accuracy that audiences expect," she continued.
The review will include content analysis, audience research and interviews with interested parties.
In 2007, a review of the BBC's science output found it was of "high quality" but said it should make a clear distinction between fact and opinion.