Picasso thief pleads guilty to theft of Tete De Femme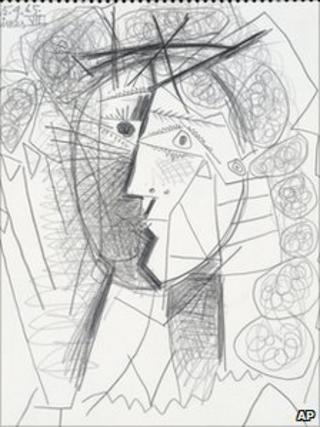 A man who walked out of a San Francisco art gallery with a Picasso sketch under his arm after snatching it from the wall has pleaded guilty to grand theft.
Wine sommelier Mark Lugo, 30, took Tete de Femme from the Weinstein Gallery on 5 July before getting into a cab with the $275,000 (£170,000) 1965 work.
He will be released from prison under supervision on 21 November after getting credit for time already served.
He will then be extradited to New York to face similar art theft charges.
Lugo was arrested within 24 hours after co-operation from the taxi driver and security camera footage from a nearby restaurant that captured Lugo walking away with the artwork.
When officers searched Lugo's apartment, in New Jersey, they found Tete de Femme and other stolen works including a further Picasso, valued at $30,000 (£19,000), and a sketch by French Cubist Fernand Leger, valued at $350,000 (£218,000).
"This is a person who definitely had a taste for the finer things and he didn't like to pay for them," San Francisco District Attorney George Gascon said.
Under a plea deal, other charges, including burglary, were dropped.
Lugo's lawyer Douglas Horngrad said his client had been accused of a series of crimes.
"All these things that Mark is alleged to have taken were all taken within a 30-day period with no behaviour like that before and that suggests that there was some psychiatric episode," the lawyer said.
Gallery president Rowland Weinstein praised "really extraordinary police work".
"This piece is a love affair of mine," he added.