Steven Tyler claims he was sober in hotel room fall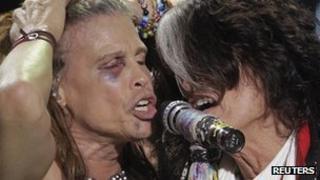 Aerosmith frontman Steven Tyler has said he was sober when he fell in the shower in his Paraguay hotel room earlier this week.
The 63-year-old, who broke two teeth and received stitches to his face, told NBC's Today that he was suffering from stomach flu when the accident happened.
He said: "I was in the shower and I got nauseous, and I started to get sick and I fell on my face. I just passed out."
Aerosmith postponed a gig for 24 hours while Tyler received treatment.
Speaking in a telephone interview from Argentina - where the band is continuing its South American tour, Tyler said he "woke up with the water running on me wondering where I was".
His tour manager then phoned the American embassy in Paraguay for help with a hospital.
Asked whether he might have been under the influence of alcohol at the time of the accident, the rocker - who has been open about his struggles with substance abuse - said: "No, it's not the issue," but added: "I get that people think that."
Tyler said his injuries would not affect the tour, saying he went on stage on Wednesday and "pulled myself up by my boot heels".
He said he wore dark glasses for the first song, then took them off to show his battered-looking face.
Two years ago, the singer broke his shoulder after falling off the stage during a US concert in South Dakota, forcing the group to scrap the rest of its North American tour.