Ofcom warns radio broadcasters over explicit lyrics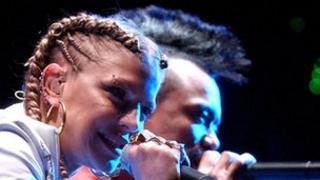 Ofcom has reminded radio broadcasters of the rules regarding explicit lyrics in songs following several breaches.
The media watchdog held a meeting with commercial radio and the BBC after a "few incidences" which broke the rules, an Ofcom spokesman said.
In May, BBC Radio 1 broadcast a Black Eyed Peas concert during the station's Big Weekend in Cardiff which featured several expletives.
But Ofcom ruled the BBC was not in breach in this case.
It found the BBC had taken various compliance measures before the event to prevent the broadcast of the most offensive language, and had issued warnings during the broadcast.
But a complaint was recently upheld over a community radio station in Scotland, Brick FM, for playing an explicit reggae record at 15:00 BST.
Ofcom said it would issue new radio guidance in the next few months.
The rules already ban the broadcast of inappropriate or offensive material when children may be listening, which generally means in the morning before school and early evening.
The move follows a similar warning to TV broadcasters recently, reminding them of their duty not to broadcast material unsuitable for children before the 21:00 watershed.
Ofcom's guidance reminded soap opera producers to be mindful of their pre-watershed audience, particularly with regard to violence.
This followed several complaints investigated by the watchdog, including a graphic fight between the King Brothers on Emmerdale and a gang attack in EastEnders, which resulted in Honey Mitchell going into premature labour.