Channel 5 axes celebrity magazine show OK! TV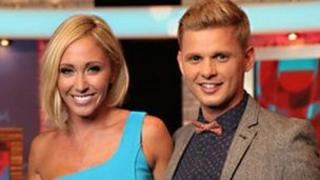 Broadcaster Channel 5 has pulled the plug on its celebrity magazine show OK! TV after less than a year on air.
The final episode of the early evening entertainment show will be aired next month, the channel has confirmed.
The Sky News production was brought in to replace Channel 5's previous magazine show Live from Studio Five, which was axed in January.
Jenny Frost and Jeff Brazier front the show, having replaced original hosts Kate Walsh and Matt Johnson.
"OK! TV, our daily entertainment news show, has been in our early primetime slot since February," said a Channel 5 spokesman.
"Being part of our former arrangement with Sky News, OK! TV is set to come off air on 16 December."
ITN is due to take over as Channel 5's news provider next year.
OK! TV - a spin-off of a magazine owned by Channel 5 proprietor Richard Desmond - had a rocky start when presenter Denise Van Outen pulled out of hosting it just days before its first edition.