Director Julie Taymor sues Spider-Man producers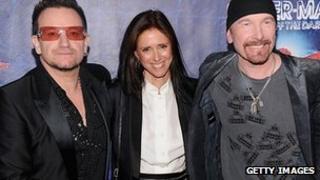 Julie Taymor, the original director and co-writer of the Spider-Man musical, has sued the producers of the fraught Broadway show over unpaid royalties.
Taymor is seeking $1 million (£621,000). She claims her creative rights were violated and that she hasn't been compensated for her work.
She was fired in March after delays, injuries to the cast and poor reviews.
Spider-Man: Turn Off the Dark began previews in November 2010 before finally opening in June 2011.
Taymor, known for the 2002 Oscar-winning film Frida and the hit stage adaptation of Disney's The Lion King, began work on Spider-Man in 2007.
U2's Bono and The Edge wrote music and lyrics for the $75 million (£47 million) production - one of the most expensive in Broadway history.
The show's elaborate aerial stunts led to several cast members being seriously injured during rehearsals.
That, coupled with some poor reviews, kept the show in preview for more than 180 performances.
Taymor and producers Michael Cohl and Jeremiah J Harris parted ways in March, after which Philip William McKinley - who directed the hit The Boy From Oz starring Hugh Jackman - was brought in.
The musical's book - which lays out the narrative structure - was revised and the show officially opened on 14 June this year.
It has since gone on to fill houses and meet the $1.2m (£748,000) weekly takings required to meet costs.
Taymor is pursuing half of all profits from the original Spider-Man show and a permanent ban of the use of her name or likeness in connection with a filmed documentary made about the troubled early days of the musical.
According to Taymor's lawyer, Charles Spada, "producers have failed to compensate Ms Taymor for their continued use of her work to date".
Taymor is also suing Glen Berger, her former co-writer. She said revisions to the book were made "without her approval". Her lawsuit said her contract called for no changes to be made without her consent.
In a statement, producers have denied Taymor claims, saying "the production has indeed compensated Ms Taymor for her contribution as a co-book writer".
They added, "the court system will provide, once and for all, an opportunity to resolve this dispute".