Madonna upset over leaked single, says manager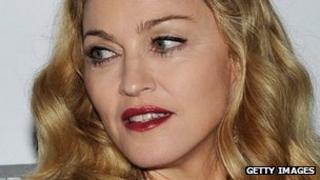 Madonna's manager says the singer is "very upset" that a demo version of her new single, Give Me All Your Love, has leaked online months ahead of release.
Guy Oseary tweeted to say material from the star's new album was not supposed to be released until the new year.
"Madonna told me this morning 'my true fans wouldn't do this'. Whoever is responsible for this leak, we ask that you please stop," he wrote.
The single is Madonna's first since leaving her label, Warner Bros.
She signed a ground-breaking deal with Live Nation in 2007, giving the company rights to all her music-related projects - including new albums, tours, merchandise, websites, DVDs, sponsorship, TV shows and films.
That was followed by her final album for Warner Bros, Hard Candy, in 2008, and a greatest hits collection, Celebration, a year later.
She had been with the label since the start of her career in the 1980s, selling more than 200 million records.
Give Me All Your Love is a pure pop record, in the vein of Madonna's former hits Into The Groove and Beautiful Stranger.
The demo begins with cheerleaders chanting: "L-U-V Madonna", and was produced by French musician Martin Solveig, who scored a worldwide hit with Hello earlier this year.
Oseary said Madonna had been "very happy with the positive reaction to the demo".
However, he sought fans' help in policing any further leaks and asked them to "respect the process".
The completed version of Give Me All Your Love will reportedly feature rappers Nicki Minaj and MIA, while Madonna is rumoured to be launching her new album with a performance at the Super Bowl on 5 February, 2012.
Oseary went on say that the album had yet to be titled and was expected to be finished in the next month.
He also confirmed Madonna had written a ballad for the film W.E., which she directed and co-wrote and is due to be released in UK cinemas in January.
This is not the first time Madonna has found herself the victim of leaks. Unfinished mixes of her 2000 single and album Music ended up online ahead of release.
By the time she released her follow-up, American Life, the pop star tackled file-sharing websites head on, uploading a fake version of the song to Napster which, when played, contained a recording of the star saying: "What do you think you are doing?"