The trials and tribulations of James Murdoch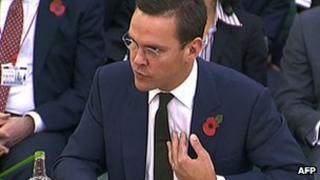 So where do we stand at the end of James Murdoch's second appearance in front of the Culture Media and Sport committee?
The News International executive chairman robustly defended his previous evidence, denying he'd misled Parliament about his knowledge of phone hacking at the News of the World. He rejected claims by the paper's former legal chief Tom Crone and editor Colin Myler, that they had told him the significance of the "for Neville" email, which revealed that phone hacking went wider than "one rogue reporter" as the company had always claimed in its defence.
Asked if the two executives had misled the committee, he said: "I believe their testimony was misleading and I dispute it".
Committee chairman John Whittingdale says the MPs will now debate the issue as they draw up their report. He wants it to be unanimous but this may not be easy, given the glaring conflict of evidence and the emotive language used by some of his members.
Labour's Tom Watson accused Mr Murdoch of being "the first mafia boss in history who didn't know he was running a criminal enterprise." Other committee members thought this went too far, sighing and tutting as he said it, and several commentators tweeted that it was counter-productive.
But Mr Watson's antipathy is understandable. Newsnight revealed this week that the newspaper had hired a private detective to put him under surveillance, during the committee's previous inquiry. News International had been vocal in its criticism of him at that time, saying certain committee members had "appeared to pursue a party-political agenda".
Today Mr Murdoch apologised unreservedly to Mr Watson for the fact that he had been put under surveillance. He also said the use of the same private detective to spy on lawyers representing the victims of phone-hacking was "appalling", "shocking" and "unacceptable".
The MPs' report is due to be published before the end of the year. But before then BSkyB shareholders will give their own verdict on Mr Murdoch's performance in front of the committee. At its Annual General Meeting later this month, they will vote on whether he should remain the company's chairman.
One MP asked him whether he thought his handling of the crisis had been incompetent, given that it had led to the closure of the News of the World and the abandonment of the News Corp bid for BSkyB. Mr Murdoch said he didn't agree with that interpretation.
Another MP observed: "It may not have been the Mafia, but it wasn't Management Today".