Bolshoi Ballet: Ivan Vasiliev and Natalia Osipova leave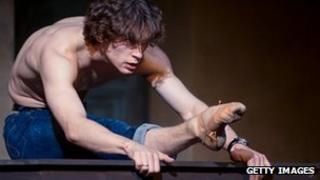 Bolshoi Ballet principal dancer Ivan Vasiliev and prima ballerina Natalia Osipova are leaving Moscow to join St Petersburg's Mikhailovsky Theatre.
They are leaving the Bolshoi Theatre, which reopened a fortnight ago after a six-year renovation, to work under Spanish artistic director Nacho Duato.
The Mikhailovsky Theatre said the couple signed five-year contracts, from 1 December, after 18 months of talks.
Director Vladimir Kekhman said they had joined "in search of artistic growth".
The reason for the switch was "definitely not the money", he added.
"Money is irrelevant to creative people," he said, adding that the engaged couple would be given the chance to tour the world's main stages and expand their repertoires.
Osipova's dance tutor Marina Kondratyeva told the Izvestia daily newspaper the pair had received "many offers from other theatres around the world" and that it would allow them to tour more.
The Bolshoi, meanwhile, said: "Both dancers are this theatre's darlings, they became world-class dancers here, and we'd hoped they would have stayed with us for longer."
The couple performed at a gala concert attended by President Dmitry Medvedev and Prime Minister Vladimir Putin at the end of last month to celebrate the reopening of the Bolshoi following its $700m (£440m) renovation.
In July, ahead of performances of Sir Frederick Ashton's Romeo and Juliet at the London Coliseum, Osipova told the BBC News website that "when we dance together I feel like we are one, and not separate pieces".
Vasiliev said their relationship made things "much easier on stage because we understand each other very well".
"But in rehearsals it is harder - we fight like cat and dog," he added.