Oscar contenders appear on the horizon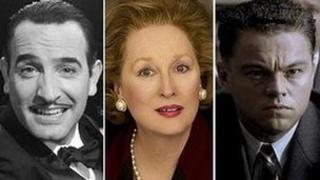 With three months to go until the 2012 Academy Awards, speculation is mounting as to which movies, stars and film-makers will be in contention.
Yet predictions have been made harder this time by recent changes to the guidelines that govern this annual industry celebration.
Where there were 10 titles in the best picture category in 2010 and 2011, the number of nominees in 2012 could be anywhere between five and 10.
In an attempt to introduce an element of surprise, the precise number will not be confirmed until the Academy unveils its full list of nominations on 24 January.
Given that February's event has already lost producer Brett Ratner and original host Eddie Murphy as a result of ill-judged comments by the former, some may feel there have been enough surprises already.
But what of the nominees themselves? Even at this early stage, there appear to be runners and riders who are racing ahead of the pack.
Third Oscar for Meryl?
Since being crowned best supporting actress in 1980 for Kramer vs Kramer and best actress in 1983 for Sophie's Choice, Meryl Streep has been Oscar nominated for best actress a whopping 11 times.
On each of those occasions - most recently in 2010 when she was shortlisted for Julie & Julia - another leading lady has walked away with the prize.
Yet many believe it will be Meryl's year on the strength of her performance as Margaret Thatcher in The Iron Lady.
Bookmaker William Hill has made her 5/4 favourite to be named best actress because of the "intriguing combination" of performer and role.
Her main competition would seem to be Viola Davis, whose moving performance as a Mississippi housekeeper in 1960s drama The Help has been showered with plaudits.
Glenn Close is in with a shot too thanks to her role in Albert Nobbs as a woman in 19th Century Dublin who passes herself off as a man.
Michelle Williams's portrayal of Marilyn Monroe in My Week with Marilyn could also make the cut, as could Tilda Swinton's performance in We Need to Talk about Kevin.
While early reviews of The Iron Lady have been mixed, Streep's uncanny impersonation looks like the one to beat.
Is silence golden?
At the very first Academy Awards, held in Los Angeles in 1929, the best picture award went to Wings, a film about fighter pilots in World War I.
It marked the first and only time a silent film has received the top accolade at Hollywood's premier prize-giving event.
Yet Wings could soon have company if French film The Artist becomes the toast of next year's awards.
A black-and-white homage to silent cinema that is itself largely silent, this crowd-pleasing charmer has been winning fans ever since it made its debut at the Cannes Film Festival in May.
There are more conventional movies in contention, most notably The Descendants - a Hawaii-set drama about a family coming to terms with one of their number's imminent demise.
War Horse, Steven Spielberg's epic adaptation of the Michael Morpurgo novel, might also seem a safer bet given its director's distinguished track record.
Where The Artist may have the edge is in its wholesale celebration of Hollywood itself, something that can only reap it votes at this back-slapping time of year.
In a time of financial downturn and economic crisis, meanwhile, its uplifting, feel-good qualities are sure to appeal to much of the Academy's membership.
George, George or George?
Clooney, Pitt or DiCaprio? Many ladies - and men for that matter - would find it impossible to choose between them.
All three, however, could well be on the same voting ballot that will be sent out to Academy members on 1 February.
At present George Clooney would appear to lead the field thanks to his role as a father forced to look after his two children alone in Alexander Payne's The Descendants.
Yet Leonardo DiCaprio's portrayal of FBI founder J Edgar Hoover in Clint Eastwood's J Edgar has a lot going for it as well.
Pitt, who plays a father himself in the baseball-oriented Moneyball, could also be in the running but has an outside hope at best.
There is a chance, however, that a dark horse could sneak in and steal the thunder from these three Hollywood heavyweights.
Could it be Gary Oldman, whose portrayal of George Smiley in Tinker Tailor Soldier Spy has earned the British actor some of the most glowing reviews of his career?
Possibly. Yet this Oscar watcher suspects France's Jean Dujardin could trump the lot with his winning performance as George Valentin, the silent actor at the heart of The Artist.