Natalie Wood: A Hollywood enigma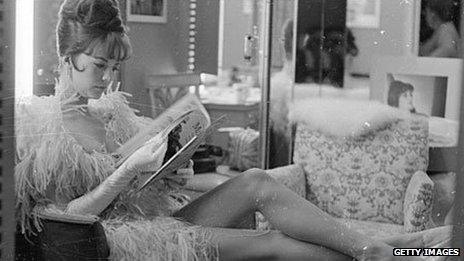 The mysterious death of Natalie Wood has remained one of Tinseltown's most enduring mysteries.
The award-winning actress was just 43 years old when she died during a boat trip off the coast of California in 1981.
The mother-of-two is believed to have slipped and drowned following a night of partying with her actor husband Robert Wagner and then co-star Christopher Walken.
But rumours of foul play have continued to circulate for 30 years, amid witness reports of a row and pleas for help from the water.
Her tragic demise prompted a media frenzy and her funeral was attended by stars from across the globe.
Small wonder. Wood was no ordinary jobbing actress: her career had seen her rise from the child star of one of Hollywood's most beloved Christmas hits to the Oscar-nominated starlet of Rebel Without A Cause and West Side Story.
Born in 1938 in San Francisco to Russian parents, Natalia Zakharenko was the middle child of an ambitious mother.
A fleeting screen role won her the attention of director Irving Pichel, who gave her her first major role, at the age of seven, in Tomorrow is Forever, opposite Orson Welles.
The role prompted her mother to move the entire family to Los Angeles against her father's will. But her instincts proved correct. Welles later remembered the young Natalia as "so good, she was terrifying".
The following year, she was cast as Susan Walker in Miracle on 34th Street, and went on to become one of the best-known child stars of that era.
"I spent practically all my time in the company of adults," she recalled of her early years. "I was very withdrawn, very shy, I did what I was told and I tried not to disappoint anybody."
At the age of 16, she starred opposite the 24-year-old James Dean in A Rebel Without A Cause. The film, which saw Wood receive the first of three Oscar nominations, came out in the same year that Dean was killed in a car accident, and rapidly became a cult hit.
A significant role in The Searchers, with John Wayne, also marked the debut of Wood's younger sister, Lana, who would go on to achieve stardom in her own right - in TV's Peyton Place and as Bond girl, Plenty O'Toole.
By now Wood was making headlines, dating a string of older men, including, it is alleged, the 43-year-old director of Rebel Without A Cause, Nicholas Ray.
Other boyfriends included Dennis Hopper and Elvis Presley, whom she dubbed "square".
But it was the studio-arranged date with childhood crush Robert Wagner that was to have the most profound impact on her personal life.
The couple shared their first date on her 18th birthday, and married a year later. But the marriage rapidly ran into trouble.
The pair separated in June 1961 - further damaged no doubt by the box office failure of their joint project, All the Fine Young Cannibals.
Splendour in the Grass marked a high point in Wood's acting career, winning her first Oscar nomination for best actress, as well as nominations for the Golden Globes and the Baftas.
It also paved the way for her relationship with co-star Warren Beatty.
Wood was, arguably, at the peak of her powers: 1961 also saw the release of hit musical West Side Story - with Wood in the leading female role of Maria. The film won 10 Oscars, including best picture.
Wood built on her stardom with the 1962 musical Gypsy, and 1963's Love with the Proper Stranger, which saw her win her third Oscar nomination as a shop assistant facing unwanted pregnancy.
At 25, Wood remains the youngest person to have received three Oscar nominations to date. But the actress was never to win any.
Not all her movies won her admiration, however, with Sex and the Single Girl (1964) and The Great Race (1965) both poorly received.
In 1966, Wood was named the Harvard Lampoon's Worst Actress of the Year, but was deemed "a good sport" by the university paper when she unexpectedly turned up to collect it.
Many fans consider subsequent two films with Robert Redford, Inside Daisy Clover and This Property Is Condemned, to be the most notable of Wood's career. And, while neither achieved box office success, both won her Golden Globe nominations.
It was at this point in her life that the actress suffered a breakdown, leading to an acting hiatus of some three years. Reportedly she turned down lead roles in The Great Gatsby and Bonnie and Clyde during this period.
She returned to the big screen in 1969 with the box office smash Bob & Carol & Ted & Alice, a swingers' comedy about the sexual revolution. It was believed to have earned her $3 million after she negotiated a 10% share of the film's profits.
By now, Wood was married to British producer Richard Gregson, whom she had dated since her break-up with Beatty in 1966. The couple had a daughter, Natasha Gregson in 1970. They separated a year later.
Shortly after their divorce was finalised, in July 1972, Wood reconciled with and remarried Wagner. Their daughter, Courtney, was born two years later, when she was 33.
Following the birth of her children, Wood stepped away from acting, making only five films between the age of 28 and her death, at 43.
Prior to her unexpected death, she was working on sci-fi film Brainstorm, with Walken. A stand-in was used to complete her unfinished work on the film, which was released posthumously in 1982.
Following her death, Wagner won custody of Wood's daughter Natasha, and raised her alongside sister Courtney.
Her well-documented fear of water prefaced her tragic death. "I've always been terrified, still am, of water," the star said, shortly before she died in 1981.