Liam Neeson joins War of the Worlds musical as hologram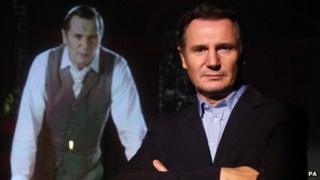 Liam Neeson is to appear as a 3D hologram in a new version of Jeff Wayne's long-running The War of the Worlds musical.
The actor takes over the narrator role from Richard Burton, whose holographic head has appeared in the show since it began touring in 2006.
The Northern Irish star said he was "very flattered" to take on the part.
Burton's narration had been taken from Jeff Wayne's original 1978 double album, which has sold some 15m copies.
The cast on the original recording included David Essex, Justin Hayward, Phil Lynott and Julie Covington.
In a new element to the production, Neeson's holographic character will appear interacting with the live performers on stage.
The show, based on HG Wells' classic science fiction novel, tells the story of a Martian invasion of Victorian England.
At the launch of the 2012 "New Generation" show and album in London on Friday, Wayne said he had decided to "re-explore" HG Wells' storyline and characters for the new tour.
This, he said, included the main character of George Herbert, The Journalist, as voiced by late actor Burton.
"While it may have been the greatest opportunity, it was also the hardest decision to make because I knew that with a re-developed storyline, a new Journalist would need to be sought, as Richard Burton's original performance was finite," Wayne said.
"And whoever that person might turn out to be, he would have to be of no less stature and quality of voice than that of Richard - an incredibly tough act to follow."
'Head and shoulders'
Burton appeared in 74 sequences in the old show, while Neeson's character features in 90.
He will take three separate forms: As a full-length hologram, as a holographic "head and shoulders" and also in filmed CGI sequences on a giant screen.
Neeson said he had been a fan of the original album, having bought it on cassette tape in 1978.
He also recalled working with Burton on a 1984 US TV mini-series, Ellis Island, shortly before the Welsh actor died.
"I remember coming out of my trailer and he was listening to this lady with his arms behind his back, and he looked incredibly fit," he told the BBC.
"I thought 'wow - that's Richard Burton'. I didn't want to go over, I wished I had, but two weeks after that he passed away. He had this 'halo' round him."
The new War of the Worlds tour takes place in the UK in December 2012.