Bonnie Pointer of Pointer Sisters arrested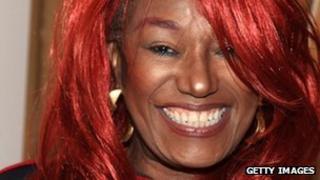 Patricia "Bonnie" Pointer, of The Pointer Sisters, has been arrested on suspicion of crack cocaine possession after police pulled her car over.
Police stopped her vehicle in south Los Angeles because of a mechanical defect. She was released after posting $10,000 (£6,400) bail, a police spokesman said.
In a statement, she thanked the public for their support and prayers.
Pointer left the singing siblings, whose hits include I'm So Excited, in 1977 before their musical peak.
The sisters grew up singing in a church choir in West Oakland, California, where their parents were ministers.
June Pointer, who died in 2006 aged 52, and Bonnie formed a duo, performing in clubs around San Francisco Bay, and were later joined in the group by Anita and Ruth Pointer.
In 1973 they released their eponymous debut album which contained their first hit single Yes We Can.
After Bonnie Pointer left the group to start a solo career, the remaining sisters went on to release several more albums including 1983's Break Out, featuring hit Jump which was covered by Girls Aloud in 2003.
The Pointer Sisters still perform as a trio comprising of Ruth, Anita and Ruth's granddaughter Sadako.