Adrian Chiles and Christine Bleakely to leave Daybreak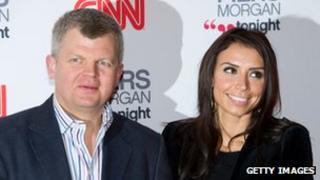 Adrian Chiles and Christine Bleakley are to leave ITV1's breakfast show Daybreak following poor ratings for the show since its launch last year, it has been confirmed.
The duo will "focus on their peak-time commitments" with the station and will leave before the end of the year.
It added that the show's new hosts would be "announced in due course".
Chiles will still front ITV's football coverage, while Bleakley will replace Holly Willoughby on Dancing on Ice.
Chiles will continue to present That Sunday Night Show, while Bleakley is lined up for other projects including factual entertainment and home renovation shows.
The pair defected from the BBC to front the much-heralded show, which replaced GMTV last year.
The ITV deals are reportedly worth £6m for Chiles and £4m for Bleakley over four years.
Daybreak has struggled since it first aired in September in 2010.
Proving less popular than GMTV, ratings fell to 600,000, less than half the number of viewers BBC Breakfast attracts.
It now averages about 800,000 viewers.
A new editor, David Kermode, takes over at Daybreak on 1 December.
Chiles and Bleakley presented The One Show on the BBC before moving to ITV.
ITV reportedly spent more than £1m rebranding and revamping their morning show with new sets and hefty promotion.
It also wooed Chiles and Bleakley from the BBC in the hope they would replicate their popular partnership and on-screen chemistry from The One Show.