Mad Max foiled by flower garden, says director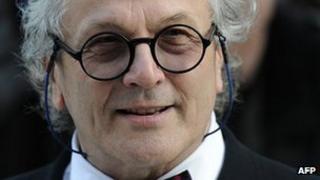 Mad Max director George Miller has confirmed that production on the fourth film has moved out of Australia due to heavy rain earlier this year.
Fury Road was due to be filmed in the isolated mining city of Broken Hill, but the rain changed its landscape.
"What was meant to be flat, red earth is now a flower garden," Miller told BBC News.
He added the movie, which will star Tom Hardy in the lead role, would begin filming in Namibia next year instead.
"There were unprecedented rains in the centre of Australia," Miller said.
"And the great salt lakes which you can drive across are now full of pelicans and fish."
The director has instead spent the year working on animated film Happy Feet 2, which is released in the UK on 2 December.
"Luckily Happy Feet and Mad Max are both Warner Bros and we collectively decided to delay it by a year," Miller said.
"But it still hasn't dried out, so we're going to Namibia where the desert is desert."
Charlize Theron and Skins star Nicholas Hoult are also set to star in the Mad Max outing, which made a star of Mel Gibson.