Bonnie Greer revisits BNP Question Time in opera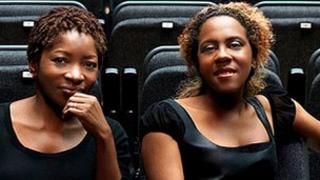 Two years ago Bonnie Greer appeared opposite BNP leader Nick Griffin in one of the most controversial episodes of Question Time ever broadcast. Now, she has written an opera about her experience.
Bonnie Greer says that taking part in BBC One's political debate show Question Time on 22 October 2009 changed her life.
She was part of a panel that included British National Party leader Nick Griffin - who had predicted his appearance would propel his organisation "into the big time".
Instead, he appeared to squirm as audience members called him "a disgrace" and was forced to explain why he had previously sought to play down the Holocaust.
Griffin, who later complained he had been the victim of a "lynch mob" during his appearance, repeatedly denied quotes attributed to him in the press, and said: "I am not a Nazi and never have been".
Looking back, Greer says that her evening, spent in a besieged BBC Television Centre, was uncomfortable but ultimately positive.
"Sitting next to Nick Griffin was like sitting next to someone who was drowning," she says.
"That's partly why I wrote the opera: When I left that studio I had to run it all back through my mind and decide what I felt about it."
Audience inspiration
Yes is her first opera, and it opens this week at the Linbury Studio - the smaller auditorium at the Royal Opera House reserved mainly for new and experimental material.
It's a one-hour piece with music by Errollyn Wallen. Greer has written the script and also appears on stage as narrator.
Some have been expecting a musical version of the programme but that was never Greer's intention. No-one plays Griffin and the other panellists or the presenter, David Dimbleby.
"I don't think reconstructing Question Time on stage would be very interesting. And it certainly wouldn't make an opera," Greer says.
She admits to not having watched the programme in its entirety after it was broadcast, and acknowledges some viewers felt she gave Nick Griffin too easy a ride.
What interested her wasn't the panel's performance but the Question Time audience.
"When you do that show, there are long swathes of time when you're not talking. And as I looked at the audience I realised they weren't so much asking questions as making statements about how they felt.
"In a church sense they were 'witnessing' something very important to them. And I suddenly in my mind heard them singing.
"So the opera's a form of completion for me - but also it's meant to express something for those people, because they never got the chance to say what they had to say. I heard emotions, thoughts, passing feelings and half-formed sentences: Opera can give those permanent form."
Composer Errollyn Wallen is less familiar to the general public than the Chicago-born Greer. But in the music world she's well-known. This is her eleventh opera, and she was made an MBE in 2007.
Wallen was born in Belize but came to the UK when she was two. "I was brought up by a British woman from the east end of London," she says.
"We'd go and visit her relatives and one or two of them represented a London which was very different from how it is now. It helped me understand the character in the opera who's a BNP supporter".
So how did she alight on a musical idiom for her nine singers and the small group of musicians?
"For me, everything in opera has to start with the characters: I have to find the right music for people to sing.
"In Yes, the characters come from [a] broad social strata, so the score has elements of reggae and gospel but also mediaeval music and modern classical. It's all there to underpin the characters' emotions. I don't want it to be self-conscious."
The opera starts with Greer, playing herself, getting the phone call from Question Time asking her to appear on the show. The title comes from her decision to say "yes" to that request. It's a choice she says she has never regretted.
"I was thrown into a media maelstrom which, on one level, was very disruptive. I'm a writer and my life is mainly quiet and solitary. Being at the BBC that evening was like being in Dante's Inferno".
"But it was a very important moment. The media are bifurcating all the time and I think it was one of the last times when the nation could come together around a medium like TV and discuss a hugely important issue.
"I'm really proud to have been part of it."
Initially Yes has only a handful of performances at the Royal Opera House, but Wallen hopes it can make an effective contribution to Britain's debate on immigration and racism.
"It's relatively recently that opera has been seen as an entertainment for the elite," she explains.
"It used to be a populist medium - I'd like to play some role in reinstating that status."
Yes opens at the Royal Opera House on 22nd November.