Leonardo: National Gallery to act over ticket resales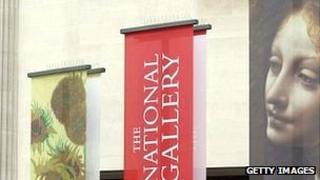 The National Gallery in London is to take action against the resale of tickets for its "blockbuster" Leonardo da Vinci exhibition.
The gallery said tickets that have been resold will be cancelled without refund and holders refused admission.
The £16 exhibition tickets are now being resold on eBay and Viagogo for up to £400.
"We are obviously very disappointed at the resale of these tickets for profit," a spokeswoman said.
"The resale of tickets for the Leonardo da Vinci exhibition is against the terms and conditions of their sale and this information is printed on the tickets.
"Our website clearly states: 'Tickets that have been resold will be cancelled without refund and admission will be refused to the bearer.'"
The spokeswoman said the gallery was contacting companies and websites that were accommodating ticket resales, requesting that they "stop immediately".
She declined to comment on which methods were being used to identify resold tickets, but said it was the first time the gallery had taken such measures.
Ed Parkinson, director of Viagogo, described demand for the tickets as "unprecedented".
He said: "Terms and conditions that aim to prevent people reselling tickets are unfair - if someone has paid for a ticket they can no longer use, they have the right to recoup their cost."
'Hottest ticket'
Leonardo: Painter at the Court of Milan focuses on the artist's formative years as a court artist in the 1480s and 1490s and runs until 5 February.
Crowds of people turned out for the opening on 9 November.
It is thought to be the most complete display of the artist's work ever shown and features seven paintings which have never been seen in public before.
Critics have showered praise on the exhibition, with the Daily Telegraph's Richard Dorment calling it "the hottest ticket in town".
Ticket reselling for exhibitions, concerts and festivals has become common practice in recent years.
However, a spokesman from the Department for Culture Media and Sport said there were no plans to tackle the issue at this current time.
"The Culture, Media and Sport select committee found no public consensus to clamp down on secondary ticketing.
"The government maintains that position and there are no plans to to look at it again."