Newsround to receive Bafta honour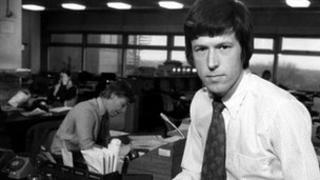 BBC programme Newsround is to be honoured at this year's British Academy of Film and Television Arts Children's Awards, it has been announced.
The Special Award is being presented to the CBBC news show in recognition of its "significant contribution" to programming, organisers said.
Newsround's first and longest-serving presenter John Craven will collect the gong on 27 November.
"Newsround was and always will be my little baby," Craven said.
The programme began in 1972 with a team of just three people, which included Craven as the presenter.
'Deeply honoured'
"Newsround was the first show of its kind in the world and I'm deeply thankful to Bafta for recognising it as such," he said in statement.
"Newsround was and always will be my little baby and I couldn't be more proud of it now it's all grown up."
The BBC's political editor Nick Robinson will present the prize to Craven, who will be joined by creator Edward Barnes and current presenter Ore Oduba.
"I am deeply honoured and profoundly grateful to Bafta for this recognition of Newsround - the world's first regular news bulletin for children," Mr Barnes said.
"I hope that the importance of a news bulletin which reports the children's world and also provides children with an insight and understanding of world events will always be recognised and given a prominent place in children's television."
The programme was originally broadcast twice a week, but now is on every day.
The team now produce 50 bulletins a week across CBBC, BBC One and BBC Two to an audience of over 800,000.
Newsround also produces special 15-minute documentaries, which are aired on both CBBC and BBC One.
Last year, the Living with Alcohol programme won the Bafta for best children's factual programme.
Newsround was the first British television programme to break the news of the loss of the Space Shuttle Challenger on 28 January 1986 when the shuttle exploded just 15 minutes before the show aired.
CBBC drama Just William has picked up three nominations at this year's Children's Baftas.