McGregor, Turnage and Wallinger unite for dance debut
By Rebecca Thomas
Arts and entertainment reporter, BBC News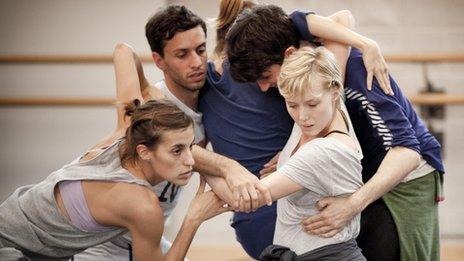 Contemporary arts stars Wayne McGregor, Mark-Anthony Turnage and Mark Wallinger talk about bringing their individual skills to a collaborative dance work.
Lauded and courted in their own fields, choreographer Wayne McGregor, composer Mark-Anthony Turnage and artist Mark Wallinger are each used to taking top billing.
But their latest project puts them on an equal footing as they collaborate on a new work entitled Undance at London's Sadler's Wells.
The piece is inspired by the work of motion photographer Eadweard J Muybridge and sculptor Richard Serra, with a bit of political commentary about the United Nations thrown in.
It's half of an evening that also sees a 3D staging, devised by McGregor, of Turnage's chamber opera Twice Through the Heart.
As one of Sadler's Wells associate choreographers, McGregor - the Olivier Award-winning creator of Chroma and Radiohead's Lotus Flower video - is on home turf.
Yet he says he was more than happy to take on an idea for Undance set down by Turner Prize-winner Wallinger - who is also the set designer - and then choreograph Turnage's music.
"Usually the choreographer comes up with a concept and then briefs the designer and composer and that's how I've been working for 20 years," says McGregor.
"But it's good to work with other people. It creates a tension that makes you take decisions you wouldn't if you weren't working with someone else."
McGregor and Turnage - famed most recently for Anna Nicole the Opera - had wanted to work together on a new piece for at least eight years.
McGregor says he loves the element of "surprise" in Turnage's work. "It's a series of hybrids, and conflicting ideas and hierarchies."
Of McGregor, Turnage says: "He's different from other choreographers, really different - outstanding really."
And both found they were fans of Wallinger.
"His work is very performative and there's great theatricality," says McGregor of the artist, known amongst other things for filming himself dressed as a bear and walking around the Neue Nationalgalerie in Berlin at night.
"Ultimately, we all got on so well that it hasn't felt like giving way, it's been very much a meeting of minds," says McGregor.
Wallinger came armed with a notebook containing what was ostensibly a list of instructions, taken from the action verbs used by Muybridge and Serra.
Muybridge was the first person to analyse motion through photography, using a series of simple actions such as to run, to walk, to jump, to throw.
Serra went on to enact some of these verbs on a huge piece of steel, performing the action and just waiting to see what the result would be.
And this is the way McGregor and Turnage put Undance together, taking the actions, performing them in dance and music and then "undoing" them - taking them in reverse and a new direction.
McGregor says the result is a dance piece with elements of his characteristic speed and agility, but which also shows a fresh side to his work.
Turnage, whose compositions characteristically fuse musical genres, agrees that Undance pushed him in a different direction.
"The music is very physical, more straightforward and more rhythmic than anything else I've done," he says, although you will still hear traces of his trademark "jazzy element", as well as a cursory nod to his favourite band Led Zeppelin.
This is the second piece Turnage has written for dance. The first was From All Sides, performed in Chicago.
"I've watched a fair bit of dance but I would never say I knew much about it," he says. "But I like the freedom compared to writing for opera. There seems to be a lot of trust.
"And, it sounds shallow, but it's a lot more lucrative than opera. You can't forget you're trying to earn a living and I've got four kids."
Turnage says he has an affinity with Wallinger, a fellow Essex lad. "We come from the same county and we even look a bit alike, it's weird."
Wallinger was no stranger to ballet. His sister was a dancer and his parents often took him to Covent Garden. "I grew up on Fonteyn and Nureyev," he says.
He chose Muybridge as inspiration because he wanted to start with "the first principles of movement". But running alongside this, Wallinger has introduced commentary about the United Nations, hence a double meaning to the "un" of the work's title.
"For one reason or another I seem to have been to a few places where there have been conflicts and UN signs," he says.
"I started reading this as 'un', where humanity has messed things up and is now trying to undo something that has already been done. They do a lot of good work, but it's the sense that we want some kind of redemptive act that interested me."
Overall, the project has been an eye-opening one for Wallinger, used to being holed up alone in his Soho studio.
"Artists can generally make do with their own company and that's what it's like every day so this has been a real sea change.
"I've been impressed with the collaborative process and the way things come together, and the kind of self-possession you need to be Wayne. Even things like timetabling and being organised are alien to me."
So impressed that Wallinger is already signed up to do another collaborative dance work at the Royal Ballet in 2012. McGregor and Turnage are also involved but this time they are not working together.
"It's great that there's a resurgence in collaborative practice after a period when artists were going down mono-tracks, partly due to funding structures," says McGregor.
"Collaborations bring all the art forms into the real world and that's really important."
Undance/Twice Through the Heart runs at Sadler's Wells, London, 1-3 December.
Related Internet Links
The BBC is not responsible for the content of external sites.