Sugarland face action over Indiana stage collapse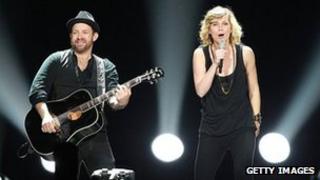 US country duo Sugarland have been named in legal action launched by those involved in a fatal stage collapse at Indiana's State Fair in August.
Families of four people killed and 44 survivors are suing the band, stage riggers and show producers, citing lack of reasonable care in its organisation.
Sugarland had not taken to the stage when the tragedy occurred.
Seven people died when a freak gust of wind caused the structure to collapse onto fans during the event.
Mario Massillamany, representing of a number of law firms who filed the claim at an Indianapolis court, said Sugarland had the final say on whether their performance would be cancelled due to adverse weather conditions.
They also contend that the band were ultimately responsible for lighting and other equipment at the scene.
"This tragedy could have been prevented if the responsible parties had been concerned about the concert-goers that night," he said.
The undisclosed claim for damages will help to cover medical bills and other expenses, it was added.
Relief fund
Sugarland's publicist has said no comment will be made about the legal action.
They have been named in two other separate claims by victims of the stage collapse.
In October, Sugarland played a free concert in Indianapolis, a short distance away from the site of the tragedy.
They asked the audience to donate to a relief fund for the victims, which has already distributed thousands of dollars in assistance.