Andrea True, who sang More More More, dies aged 68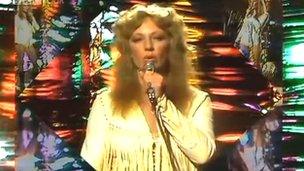 Disco star Andrea True, whose biggest hit was More More More (How Do You Like It?), has died aged 68.
The singer began her career as an actress in pornographic films, shortening her name from Andrea Truden for the sake of her family.
More More More, a top five hit in the UK, was recorded in Jamaica, where True had been filming a commercial in 1975.
It came about almost by accident, after True was forbidden to leave the country with the earnings from her day job.
True spent the money to flesh out a song she had made up, pairing a hazy piano-based instrumental with girly, breathless vocals.
She took the demo back to New York, where it was remixed by Tom Moulton and released as a single, credited to the Andrea True Connection.
Reaching number four in the US, the single has been called "one of the truly classic club hits of its time" by Billboard magazine.
It was followed by an album, also titled More More More, and a further UK hit single, What's Your Name What's Your Number.
But her second album failed to sell in large numbers, essentially ending her recording career.
Speaking to the Los Angeles Times in 1976, she stressed that she would not return to her former career in adult films - having previously made more than 40 titles, including Deep Throat II.
"I would be a waitress or a typist before I'd star in another," she told the newspaper.
Instead, she moved to Florida and sang in clubs until complications from throat surgery made that impossible.
In later years, she took a variety of jobs - including drug and alcohol counsellor, telemarketer and estate agent.
She continued to earn royalties from her biggest hit, however. It has soundtracked numerous advertisements over the years - including recent campaigns for Nutgrain cereal bars in the UK and Honey Bunches of Oats cereal in the States.
More More More was also sampled by Canadian band Len for their single Steal My Sunshine, which became a top 10 hit in 1999, and covered by Rachel Stevens in 2004.
True died on 7 November in a New York hospital.
The news was announced by the Gilpatric-VanVliet funeral home in Kingston, New York, and confirmed by her friend, Louise Marsello, who told the New York Times the cause had been heart failure.
No immediate family members survive.