BBC will cover opening stages of Euro 2012 from Salford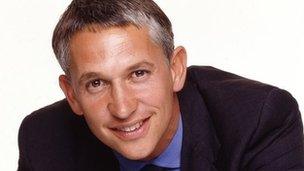 The BBC will not be sending its Match of the Day team to cover the opening stages of the Euro 2012 football tournament, it has emerged.
Presenters including Gary Lineker and Alan Shearer would instead deliver their verdicts from studios in Salford.
Whether they go to Poland and Ukraine for later stages depends on how England and the Republic of Ireland progress.
The BBC said the decision to stay in Salford was "solely based on providing value for money".
The corporation is cutting 20% from its budget over the next five years, after the licence fee was frozen in the government's spending review.
It also faces the challenge of covering the 2012 Olympics and the Queen's Diamond Jubilee next summer, in what senior executive Roger Mosey has called "the BBC's most ambitious set of outside broadcasts in a lifetime".
The decision to keep Match of the Day team in the UK for the initial games of Euro 2012 would not have any impact on the screening of live matches.
As yet, however, there has been no announcement as to which broadcaster or broadcasters have secured the rights to show the tournament in the UK.
The programme moved to Salford earlier this month, where staff joined colleagues from Football Focus, who had been in place for the start of the season.
Several thousand jobs are moving to the BBC's new base in the north, with 5 live, BBC Breakfast, BBC Children's and BBC Sport among the departments to relocate.
This year's Sports Personality of the Year event will also be held in Salford.
Related Internet Links
The BBC is not responsible for the content of external sites.