Harry Potter finale wins Children's Bafta double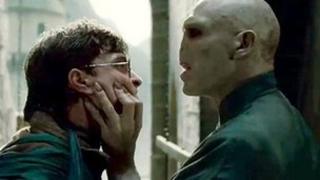 The final outing in the Harry Potter franchise scooped best film and an audience gong at the Children's Baftas.
Star Warwick Davis, picking up best film, thanked author JK Rowling for "amazing material" saying he would take the prize to her "with absolute pride".
Peppa Pig also won twice with nine-year old Harley Bird - the voice of Peppa - winning the performer award.
Newsround, which celebrates its 40th birthday in 2012, won the special award while CBeebies was channel of the year.
CBBC, meanwhile, was the channel with the most awards, taking home five awards in its own right.
It was also credited, along with Aardman, Tate and Fallon, for interactive prize-winner Tate Movie Project.
Davis, who plays both Professor Filius Flitwick and Griphook the goblin in Harry Potter and the Deathly Hallows: Part 2, said: "It's just such a tremendous team effort on these films, literally hundreds of people go to put these films together and make them what they are."
John Craven, who presented Newsround from its first show, in April 1972, to June 1989, said many people in TV "tend to be remembered for programmes they personally would prefer to forget".
"But I'm terribly proud of Newsround, always have been," he told the audience at the ceremony at London's Park Lane Hilton.
"It does come as a bit of a shock these days when people who I think look pretty old come up to me and say, 'thank you for being part of my childhood'."
Of some dated jumpers and shirts he was shown wearing in vintage clips of John Craven's Newsround, he said: "I thought they were quite subdued at the time."
The controller of CBeebies, Kay Benbow, picking up the award for best channel, also paid tribute to the show.
"Yes, I remember Newsround 40 years ago, I do remember it, and it meant a great deal to me and it also matters to my two sons - I really appreciate that."
She said the best channel award was "as always, for our very youngest viewers".
It was also a strong night for sister station CBBC with prizes including best comedy, for Horrible Histories, best drama show, for Just William, and best entertainment programme, for Trapped.
The channel's wildlife documentary programme, Deadly 60, won best factual programme while presenter Steve Backshall picked up the presenter prize.
Weevils triumph
The Amazing World of Gumball, shown on the Cartoon Network, won the animation award while the programme's James Lamont and Jon Foster won the writer prize.
Peppa Pig, shown on Channel 5, won the pre-school animation prize.
The international award went to Fish Hooks, shown on Disney Channel UK, while the pre-school live action prize went to CiTV's Bookaboo.
Lego Pirates of the Caribbean won the video game award while Nose Dive Studios, a team of 15-year-olds from London, won the Bafta young game designers award.
Joining the Potter film as winners of the Bafta Kids' Vote awards, chosen by young fans, were the Disney Channel's Good Luck Charlie, video game Just Dance 2 and website Bin Weevils.
Spandau Ballet's Martin Kemp and comedian Jack Whitehall were among award presenters at the ceremony, hosted by Blue Peter presenter Barney Harwood.