Twilight Saga: Breaking Dawn passes $500m mark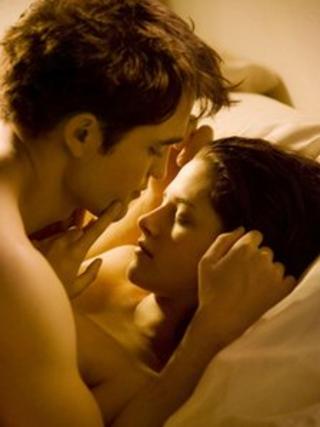 The latest Twilight film has now made more than $500m(£321m) at the worldwide box office, its distributor Summit Entertainment has said.
By Tuesday, its takings had exceeded $508m (£326m) - $223m (£143m) of which was made in North American cinemas.
The Twilight Saga: Breaking Dawn Part 1 is the fourth instalment in the vampire series. A fifth movie follows in 2012.
It is the top film in both the UK and US box office charts after its second weekend of release.
"We couldn't be more pleased with the success of this film," said Rob Friedman and Patrick Wachsberger, co-chairmen of Summit Entertainment.
The previous three instalments in the Twilight series have collectively made more than $1.8bn (£1.15bn) at the worldwide box office.
Breaking Dawn Part 1 was the runaway success at UK and Ireland cinemas this weekend, making £4.5m between Friday and Sunday.
Since opening on 18 November, the film - which stars Kristen Stewart and British star Robert Pattinson - has made in excess of £23m.
Although Twilight's achievements over 12 days were attained by the final Harry Potter movie in six.
When it opened in July, Harry Potter and the Deathly Hallows: Part 2 promptly set a new record for the fastest film to cross the $500m mark.
Animated fantasy Arthur Christmas remains the number two film in the UK and Ireland, having made £2.5m on its third weekend of release.
Breaking Dawn and Arthur Christmas were the only titles to make more than £1m between Friday and Sunday, with other new releases posting relatively disappointing results.
The most successful new release was biographical drama My Week with Marilyn, which entered the chart at three with £749,819.
50/50, a comedy about a young man with cancer, was ranked sixth, just ahead of the Daniel Craig supernatural thriller Dream House.
Brad Pitt's latest vehicle Moneyball, about a baseball manager trying to rejuvenate his struggling team, took 10th place in this week's Top 10 with a modest £230,848 across the weekend.