Comic actor Alan Sues dies at 85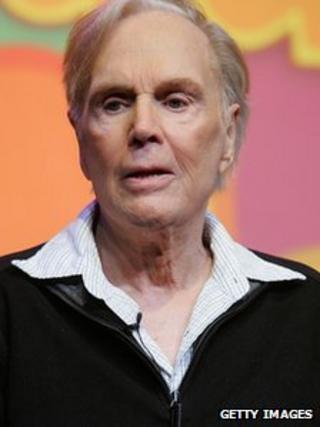 Comic actor Alan Sues, a star of US television series Rowan And Martin's Laugh-In, has died at the age of 85.
Known for his outrageous, camp persona, Sues had several recurring characters on the comedy series, including Big Al - an effeminate sport reporter and Uncle Al the Kiddie's Pal.
His close friend Michael Gregg Michaud told the Associated Press that Sues had died of cardiac arrest on Thursday at his home in West Hollywood.
His final role was a 2009 short film.
Artificially Speaking premiered at Dances with Films, an independent film festival in Santa Monica, California.
Born in 1926, Sues served in the army during World War II. After the war, he trained as an actor and made his debut on Broadway in the play Tea and Sympathy, directed by Oscar-winner Elia Kazan.
In 1964, Sues appeared in another dramatic role in the classic Twilight Zone episode The Masks. He played a vicious bully who - along with his equally nasty family - was asked to wear a hideous carnival mask by a dying relative.
Four years later, Sues joined the cast of comedy sketch show Rowan And Martin's Laugh-In. Hosted by comedians Dan Rowan and Dick Martin, the colourful, anarchic TV show was broadcast by NBC and influenced UK productions like Tiswas.
It also made stars of Lily Tomlin and, in her first role, Goldie Hawn.
Sues was a hit as Big Al, a fey sport reporter who loved ringing his bell, which he called his "tinkle".
After leaving the show in 1973, he once again returned to stage playing Professor Moriarty in Sherlock Holmes opposite Star Trek actor Leonard Nimoy.
He continued to work in TV and commercials throughout the rest of his career.
Sues had health problems in his later years but Mr Michaud told AP that his death came as a shock to friends.
He said: "He was sitting in a recliner watching TV with his dachshund Doris, who he loved, in his lap."
Sues leaves a sister-in-law, two nieces and a nephew.