John Craven to receive Christmas celebration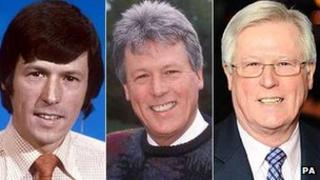 The 40-year career of broadcaster John Craven is to be celebrated in a special documentary profile, to be aired on BBC Two on Christmas Eve.
The John Craven Years will look at the 71-year-old's time on Newsround, which won a Children's Bafta last month.
It will also cover his years on BBC One's Multi-Coloured Swap Shop through to his current role on Countryfile.
Noel Edmonds, Martin Bell and the impressionist Jon Culshaw are among those who will appear on the programme.
A 45-minute version of the documentary will air on 24 December, to be followed by an extended hour-long version five days later.
As he accepted Newsround's special Bafta last month, the broadcaster said he was "terribly proud" of the show he presented from April 1972 to June 1989.
Yet he did concede he found it strange "when people who I think look pretty old come up to me and say, 'Thank you for being part of my childhood'."