Guns N' Roses inducted into Rock and Roll Hall of Fame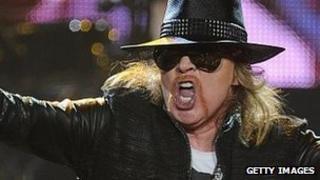 Guns N' Roses are to be inducted to the Rock and Roll Hall of Fame next year.
Red Hot Chili Peppers and The Faces also made the cut from the 15 shortlisted artists.
They will be honoured alongside The Beastie Boys, Scots folk singer Donovan and late singer Laura Nyro on 14 April.
Faces member Rod Stewart, who was inducted to the Rock Hall in 1994 as a solo artist, said it was "a thrill and honour to make it in the Hall of Fame a second time".
The British group are being recognised in both their guises - as The Small Faces with lead singer Steve Marriott, and as The Faces fronted by Stewart.
"We were always synonymous with a good party and with this list of fellow artists being inducted I'm looking forward to it and it's a hell of a good reason to reunite and celebrate with my old mates," Stewart added.
Nominations for the performers category are selected by a small committee and are then voted on by around five hundred experts across the world.
Guns N' Roses and The Faces were inducted on their first time in the ballot, while The Chili Peppers had to wait until their second try.
The Beastie Boys and Nyro were also denied the honour twice before making it this time around.
However, the nominations process has been criticised for a lack of transparency.
Other inductees include Freddie King for early influence, the late rock promoter Don Kirshner, who will receive the Ahmet Ertegun award and Tom Dowd, Glyn Johns and Cosimo Matassa will be honoured for musical excellence.
The induction ceremony will take place in Cleveland this year, just the third time in its 27-year history that the event has taken place in the museum's home city instead of New York.