Orson Welles' Citizen Kane Oscar up for auction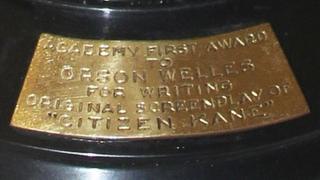 The Oscar awarded to Orson Welles for writing Citizen Kane is to be auctioned in Los Angeles later this month.
The gold statuette, which Welles won for best screenplay in 1942, is expected to fetch up to $1m (£642,000).
Despite some tarnishing on the legs, the Oscar is "overall in very good condition," according to auction house Nate D Sanders.
It is the second time the Oscar has been on the auction block, after it failed to sell in 2007.
The award itself has had a colourful history - Welles believed he had lost it, but it resurfaced after his death when it was put up for auction in 1994 by a cinematographer who claimed the filmmaker had given it to him as a form of payment.
Welles' daughter Beatrice sued and won back ownership of the Oscar, but she was then sued herself by the Academy of Motion Picture Arts and Sciences - which gives out the awards - when she tried to auction it in 2003.
In a bid to stop public sales, the Academy introduced an agreement in 1950 that banned winners from selling their Oscars to anyone but the Academy for the nominal sum of $1 (64p).
After a legal battle, Beatrice Welles won the right to sell the statuette and sold it to a US charitable foundation, who in turn unsuccessfully tried to auction it at Sotheby's in New York in 2007.
In that instance, it was expected to sell for a similar amount, but it is now believed the movie memorabilia market is much stronger.
"There has been so much movie memorabilia that has been selling for high prices," spokesman Sam Heller said.
"People are just willing to spend a lot of money to buy these things, whether as an investment or as a collector."
Although Citizen Kane received nominations for best screenplay, best director and best leading actor for Welles, the writing award was the only competitive Oscar awarded to him throughout his life.
He collected an honorary Academy Award for his life's work in 1971.